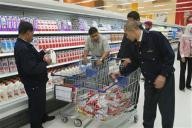 photo: reuters
China has brought a tainted milk scandal in which thousands of children fell ill with kidney stones under control, a senior official said on Wednesday, as Premier Wen Jiabao vowed tougher controls.
Beijing is battling public alarm and international dismay after close to 13,000 Chinese children crowded hospitals, ill from infant milk formula tainted with melamine, a cheap industrial chemical that can be used to cheat quality checks.
But Xiang Yuzhang, the national quality watchdog's chief inspection official, told reporters that consumers could now rest easy after a widespread recall of tainted products and increased testing of dairy goods.
"The Chinese government has taken a series of very strong measures to get to the bottom of this matter," Xiang said on the sidelines of a food safety conference in Beijing.
"I have just returned from an inspection trip to the regions. At present, there is basically no melamine problem anymore in the Chinese market, including for producers...
"There is no problem. It has been brought under control, more or less. There are no more problems in the market," he added. "As far as I know, there will be no more bad news."
So far, four deaths have been blamed on kidney stones and complications caused by the toxic milk. China's latest food safety crisis has triggered arrests, official sackings and bans and tightened inspections in trade partners