China's central government has given the green light to the Walt Disney Co. to build its long-awaited first theme park on the mainland in Shanghai, after a decade of negotiations, both sides announced.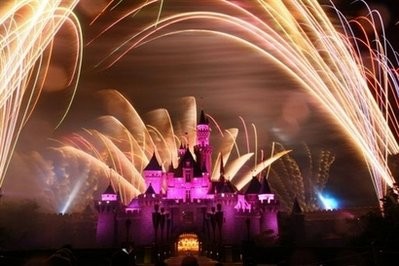 Fireworks light up the sky above Sleeping Beauty Castle at Hong Kong Disneyland. (AFP Photo)
The announcement of the deal, which would be one of the biggest ever foreign investments in China, comes less than two weeks before US President Barack Obama makes his first official visit here, starting November 15 in Shanghai.
Neither side disclosed any figures, or gave a time frame for reaching a final agreement, but previous reports have said the US entertainment giant will invest 3.6 billion dollars in the 10-square-kilometre (four-square mile) park.
"The Project Application Report (PAR) for a Disney theme park in the Pudong district of Shanghai has received approval from the relevant authorities of the central government of China," Walt Disney said in a statement.
"China is one of the most dynamic, exciting and important countries in the world, and this approval marks a very significant milestone for The Walt Disney Company in mainland China," Disney president and CEO Robert Iger said.
The Shanghai government said in a statement that approval had been granted late last month, and that both sides had "started in-depth talks on details of the project, to build a world-class Disneyland".
Disney said the government approval of the project would allow both sides to "move forward toward a final agreement" to build and operate the "Magic Kingdom-style theme park with characteristics tailored to the Shanghai region."
A Shanghai-based Disney executive told AFP on Wednesday: "It's just a PAR and not the final deal yet."
When asked how long negotiations could last, the executive said: "It may take several more months."
The Shanghai park would be part of a major push by Disney into China, to push the giant's other products in the market of 1.3 billion people.
Disney is one of the most active foreign entertainment companies in China, with more than 600 employees in Shanghai, Beijing and Guangzhou, according to corporate data.
Disney products are sold in 5,000 branded, free-standing locations and retail corners in more than 25 Chinese cities. Last year, the company launched its first English learning centre in Shanghai for children aged two to 10.
Hong Kong opened a Disney theme park in 2005.