China overtook Germany as the world's biggest exporter after exports rose in December for the first time in 14 months, data showed Sunday, in a new sign of the rapid Chinese rise as a global economic force.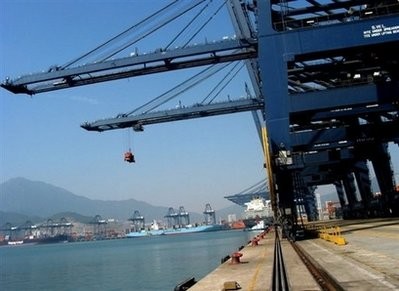 The port of Shenzhen in south China, located in the Pearl River Delta, the heartland of the China's export-oriented economy. (AFP Photo)
Chinese exports in the last month of 2009 jumped 17.7 percent from a year earlier, the state Xinhua News Agency and government television said. That made total exports for the year just over $1.2 trillion, ahead of the 816 billion euros ($1.17 trillion) forecast last month for Germany by that country's foreign trade organization, BGA.
Economists and Germany's national chamber of commerce said earlier it was likely to lose its longtime crown as top exporter.
China's new status is largely symbolic but reflects the ability of its resilient, low-cost manufacturers to keep selling abroad despite a collapse in global consumer demand due to the financial crisis.
China's politically sensitive trade surplus shrank by 34.2 percent in 2009 to $196.07 billion, Xinhua said. That reflected China's stronger economic growth, driven by a 4 trillion yuan ($586 billion) stimulus, and demand for imported raw materials and consumer goods at a time when demand in the United States and other foreign markets is weaker.
The December export rebound was an "important turning point," a customs agency economist, Huang Guohua, said on the state broadcaster CCTV.
"We can say that China's export enterprises have completely emerged from their all-time low in exports," Huang said.
Even though China overtook Germany in 2009 as top exporter, CCTV said its total 2009 trade fell 13.9 percent from 2008.