China's state media on Monday sang the praises of relations with North Korea, whose leader Kim Jong-il and youngest son have reportedly been on a visit to their ostracized country's only powerful ally.
A source with knowledge of the secretive trip told Reuters at the weekend that the two Kims were on a trip to China but there has been no official confirmation from either government.
"Maintaining and stabilizing the current relationship between China and North Korea is of maximum benefit to China," the popular Chinese-language tabloid, Global Times, said in an editorial.
China is the only major supporter for North Korea, which is largely isolated from the international community over its nuclear weapons programme and which has come under further condemnation after South Korea accused it of sinking one of its warships earlier this year.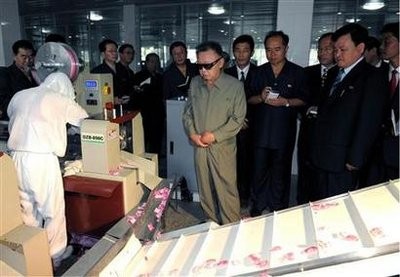 North Korean leader Kim Jong-il (C) visits the Pyongyang Cornstarch Factory in this undated picture released on August 26, 2010 by North Korea's KCNA news agency
China's official Xinhua news agency also praised ties between the two, especially the bonds forged between the two peoples during the 1950-53 Korean War.
"Those who sacrificed their lives for the China-DPRK (North Korea) friendship should be remembered generation after generation, particularly at a time of changing and complicated regional situations," it said in an English-language commentary.
Kim, 68 and who rarely travels abroad, is reportedly in China for the second time this year. This time he is thought to have brought along his youngest son, Kim Jong-un, widely seen as the next head of the family dynasty that has led North Korea since its founding more than 60 years ago.
NO SIGHTINGS
On Monday, police lined the streets in Tumen, a city on China's border with North Korea, in a sign that Kim may visit there or pass through on his way home.
But there have been no definite sightings of Kim and no confirmation yet from either China or North Korea of the visit.
Kim may be lining up China behind succession plans involving his son, foreign analysts have said. The Workers' Party (WPK), which rubber-stamps big decisions in the North, is due to hold a rare meeting in September that could set in motion succession steps.
The Chinese newspaper blamed outside forces for pressuring North Korea as a way to create trouble for China, the sole major economic and diplomatic supporter of its much weaker neighbor.
The sinking of the South Korean navy ship, in which 46 sailors died, deepened tensions between Pyongyang and Seoul and strained Chinese ties with South Korea.