XINING, China, April 15, 2010 (AFP) - Rescuers with shovels and bare hands clawed through rubble Thursday to hunt for survivors of a quake in a remote area of China which killed over 600 people and made thousands homeless.
A huge relief effort was under way to send vital aid such as tents and medical supplies to the disaster zone, where doctors set up makeshift hospitals and rescuers battled freezing weather and a lack of oxygen.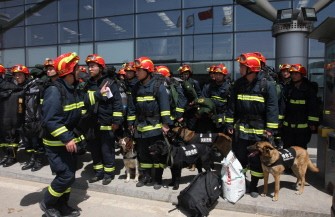 Chinese rescue workers with sniffer dogs line up at Xining airport before leaving for Yushu county in Qinghai province on April 15, 2010. AFP photo
Thousands spent the night without shelter in freezing temperatures following the 6.9 magnitude quake which hit Yushu county in northwestern Qinghai province on Wednesday, destroying almost all the houses in Jiegu, the local capital.
The number who perished has risen to 617, including dozens of children, while the number of injured stood at 9,110, state television reported.
But the death toll was expected to rise further, with more than 300 still buried under collapsed mud-and-wood houses and school buildings in the mainly Tibetan region after the deadliest quake in China in almost two years.
"Freezing weather, high altitude and thin air have all made rescue efforts difficult," Hou Shike, deputy head of the China International Search and Rescue was quoted as saying by the Xinhua state news agency.
Prime Minister Wen Jiabao is due to visit the area later Thursday, as the government dispatched thousands of rescuers, including soldiers and medical teams to the zone on the Tibetan plateau known as the "Roof of the World".
Foreign governments also offered their help as international aid officials warned that the priorities would be providing shelter, medical aid, supply of food and water and ensuring sanitation to prevent the spread of disease.
The rugged terrain and remoteness of the region, around 800 kilometres (500 miles) or at least 12 hours by road from the provincial capital Xining, were hampering efforts to bring in much-needed supplies.
The quake and a series of strong aftershocks damaged roads and triggered landslides, disrupting telecommunications and knocking out power, although the goverment later said electricity had been restored to dozens of towns.
Dazed survivors told harrowing stories of loved ones being crushed to death under their homes.
"There are 10 people in my family and only four of us escaped. One of my relatives died. All the others are buried under the rubble," Samdrup Gyatso, 17, told Xinhua after his two-storey home crumbled.
The civil affairs ministry said it was to send 5,000 tents, 50,000 coats and 50,000 quilts. But the local government in Yushu -- the quake's epicentre -- reported a lack of tents and medical supplies.
"We lack everything. We lack medical alcohol, needles, anaesthetic," said doctor Karma Sherab, holding open his empty medical bag as a mother sought help for her injured daughter, Xinhua reported.
Survivors spent an uncomfortable night in the open with temperatures below freezing while rescue workers from outside the region struggled to cope with the lack of oxygen at about 4,000 metres (13,200 feet) above sea level.
Among the dead were at least 66 pupils and 10 teachers, Xinhua said, quoting local authorities, as dozens of grieving parents waited for news near the ruins of the schools, where discarded school books and clothes lay.
The scene was reminiscent of the huge quake in May 2008 in Sichuan province, where thousands of children died when their shoddily-constructed schools fell on them -- an issue that caused huge controversy in China.
Nearly 87,000 people were killed or missing in the 2008 disaster, the worst in China in more than three decades.
Qinghai province was also hit by a quake in April 1990 that left 126 dead.
The United States was "ready to assist" in the rescue effort, Secretary of State Hillary Clinton said, while the United Nations said its chief Ban Ki-moon "recognises the efforts being undertaken by the government of China to assess the situation and to assist those affected by the earthquake".