China is the biggest investor in Cambodia, with cumulative investment exceeding 14 billion USD from 1994 to October 2016, according to the Council for Development of Cambodia, reported by Vietnamnews in Phnom Penh.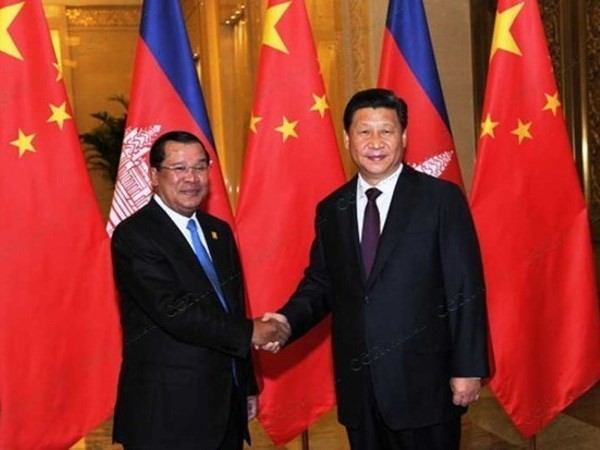 Chinese President Xi Jinping (R) and Cambodian Prime Minister Hun Sen (Illustrative image - Source: thecambodiaherald.com)
The information was released at the Cambodia – China Business Forum that took place in Phnom Penh on December 1, gathering 600 entrepreneurs and senior officials of the two countries.
Cambodian Prime Minister Hun Sen said the forum is of significance to the implementation of the "One Belt and One Road" initiative.
He also spoke highly of the bilateral partnership in all spheres, particularly in trade, investment, banking, finance, and tourism, saying trade revenue between the two countries hit 4.4 billion USD in 2015, an annual increase of 18 percent.
PM Hun Sen said China ranked second in terms of the flow of tourists to Cambodia, with about 700,000 arrivals recorded in 2015. He projected the figure will reach 800,000 this year, up 14 percent year-on-year.
At the event, the Cambodian Prime Minister decided to issue multiple entry visas that are valid for 3 years for Chinese and Korean investors in a bid to attract more investment capital from the two nations.