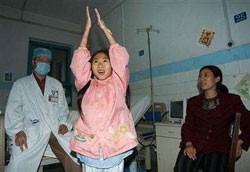 An eight-year-old girl (C), who was diagnosed with the H5N1 bird flu virus, exercises in a hospital in Suining, China's Sichuan province May 10, 2006
The disciplinary action was announced a week after the World Health Organization highlighted China and Indonesia as two countries that had "room for improvement" in their fight against the deadly virus, citing inadequate response on the local government level.
The five officials from Dazhu county were found guilty of dereliction of duty and incompetence in responding to the province's first outbreak of bird flu, the China Daily said, citing a government circular.
Between December 22 and 25, about 1,800 chickens and ducks died in Liuyan village, Yangjia town in Dazhu county.
When a farmer in Liuyan village reported the sudden death of chickens and ducks on his farm to two of the officials on December 24, they did not take any action.
Another official, deputy chief of the county's animal quarantine station, did not respond after noting the death of poultry in Liuyan village, the report said.
Three humans in Sichuan were later found to be infected with the virus, although the report did not link the officials' lack of action to the infections.
Source: AFP