China said Tuesday that North Korea was ready to shut down its Yongbyon nuclear facility and accept UN inspectors as part of the six-nation disarmament process.
"We found that the DPRK is ready to shut down and seal the facility in Yongbyon and accept the monitoring and supervision of the IAEA (International Atomic Energy Agency)," foreign ministry spokesman Liu Jianchao said.
Liu did not give a specific timeframe but he referred to a six-nation accord signed on February 13 that commits North Korea to closing Yongbyon and allowing IAEA inspectors in by mid-April.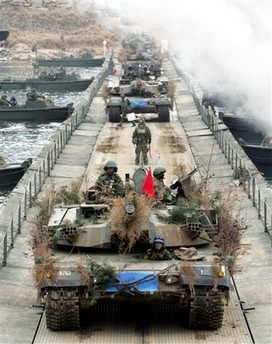 South Korea's K1-A tanks cross the Han River during an annual military exercise against a possible attack from North Korea
"All parties are willing to take serious steps to implement their commitments in the common document of February 13," he said.
Liu reported the latest round of the six-nation talks -- which involve host China, the two Koreas, the United States, Japan and Russia -- had made good progress this week.
"All parties believe that reaching such an agreement marks the start of a new stage of action, and it is a good start for new progress in the six-party talks," he said.
However North Korea has accused Japan of trying to sabotage six-nation nuclear talks, although the United States held firm in support of its ally as envoys sought to flesh out a disarmament plan.
After a major hurdle appeared to be cleared in the tortuous diplomatic process with the end of a sanctions dispute between North Korea and the United States, the Stalinist regime signalled its row with Japan could pose problems.
North Korea's official KCNA news agency, one of the main windows into the secretive nation, accused "the present ruling quarters and the right-wing forces of Japan" of not wanting the Korean peninsula to be nuclear-free.
Tokyo has been less enthusiastic about recent progress in the talks aimed at ending North Korea's nuclear weapons programme amid an unresolved row over the communist state's past abductions of Japanese nationals.
North Korea has acknowledged kidnapping 13 Japanese in the 1970s and 1980s to train its spies.
It returned five victims and their families and says the rest are dead. But Japan maintains that the other abductees are alive and that more Japanese were snatched than Pyongyang has admitted.
Japan has maintained that, until the abduction issue is resolved, it will not help fund a February 13 six-nation accord in which North Korea would receive as much as one million tonnes of fuel aid for disarming.
"We will stay with the same policy that we won't fund the energy assistance without seeing progress (on the abduction issue)," Japanese Prime Minister Shinzo Abe told parliament on Monday.
The chief US envoy to the six-nation talks, Christopher Hill, said Tuesday that Washington would continue to back Japan in its bid to resolve the kidnapping issue, and that the dispute should not derail disarmament talks.
"We don't see North Korea driving a wedge between us and Japan. It is just not possible for them to do that," Hill said.
The talks began in Beijing on Monday on an optimistic note following an announcement by the US that it had reached a deal with North Korea to end a financial sanctions dispute that had held up the six-party process.
The US Treasury announced that roughly 25 million dollars in North Korean funds frozen in a Macau bank due to accusations of money laundering and counterfeiting would be released, although no timeframe was given.
Pyongyang had insisted it would not implement the February deal until the sanctions dispute was resolved.
Chief North Korean envoy Kim Kye-Gwan reportedly told his fellow envoys at the talks on Monday that his government would proceed with the first phase of disarmament once the 25 million dollars were safely returned.
Under the February accord, North Korea was given 60 days to close its main reactor at Yongbyon and allow UN International Atomic Energy Agency inspectors back into the country to supervise.
In return, the impoverished state would initially receive 50,000 tonnes of heavy fuel, rising up to one million tonnes if it permanently disbanded its atomic weapons programme.
Hill and other envoys insisted that, while the first phase of the deal should now be implemented on schedule, they also expected North Korea to begin cooperating on the drafting of a broader roadmap for full disarmament.
"We would like to begin the sequence of events for the next phase, which involves the complete declaration" by North Korea of its nuclear weapons programme, Hill said late Monday.
Chief South Korean envoy Chun Yung-Woo called Tuesday for North Korea to permanently and completely scrap its nuclear programme within months.
"As to how early to disable (North Korea's nuclear facilities), we are talking about months, not years," Chun said, adding only complete disarmament would be acceptable.