China said Tuesday it remained opposed to further sanctions against Iran over its nuclear programme, insisting diplomacy was the best way to resolve the issue.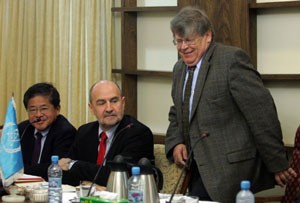 Olli Heinonen (R), deputy director general of the IAEA, arrives for a meeting with Iranian nuclear officials in Tehran, 29 October 2007. (AFP Photo)
"We consider that the decision to impose sanctions should not be made lightly. At present, the Iranian side is seeking to solve the issue through talks," foreign ministry spokesman Liu Jianchao told reporters.
"Under the current circumstances we do not support further sanctions, as that would worsen the situation."
Liu was responding to a question about visiting Israeli Foreign Minister Tzipi Livni's call for China to support "dramatic" sanctions against Iran in an effort to stall its nuclear drive.
Israel and the United States have been most vocal in accusing Iran of pursuing nuclear weapons. Iran has always denied the charge, insisting its nuclear programme is only for civilian energy use.
With its permanent UN Security Council seat, China's support is considered vital for any measures against Tehran.
China has so far opposed tough action, calling instead for a negotiated end to the impasse.
Iran and the UN atomic watchdog resumed talks today over controversial Iranian nuclear activities, a day after the agency's chief said there was still no evidence Tehran is seeking nuclear arms.
The technical talks are being held as part of an agreement between the two sides which Tehran hopes will prevent further UN Security Council resolutions but which has been criticised by the United States for not going far enough