China said Friday it was on track to achieve its target of eight percent economic growth in 2009 as a new flood of data suggested that massive stimulus spending was paying off.
Investment on fixed assets in China's cities was steady in August but exports for the first eight months of the year fell more than 20 percent, indicating that government spending is now the main prop to growth.
"The data from January to August has laid a good foundation for realising the eight percent economic growth target for the full year," Li Xiaochao, a spokesman for the National Bureau of Statistics (NBS), told a press conference.
"So far, the main reason why the overall economy is stabilising and starting to recover is that we adopted the stimulus package to expand domestic demand."
Retail sales, the main measure of consumer spending, rose 15.4 percent in August compared with the same month last year, the government said. In July, the figure was up 15.2 percent from a year earlier.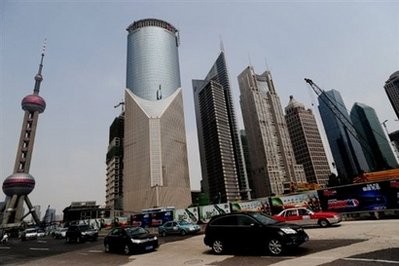 High rise buildings seen under construction in Shanghai
The consumer price index, the main gauge of inflation, fell 1.2 percent in August year-on-year, the NBS said in a statement.
August's inflation figure was the seventh consecutive monthly decline, and compared with a 1.8 percent decrease in July.
But Li sounded a note of caution, saying China has "a lot of work to do" to reach the eight percent growth threshold -- which is seen as vital to maintain job creation and thus stave off social unrest.
Growth in some industries was still slow, the official said, with China's export-driven economy suffering fallout from the global crisis.
Before the crisis struck, the country had experienced double-digit annual growth from 2003 to 2007 and again in the first two quarters of last year.
That had slowed to 6.1 percent in this year's first quarter, before a pickup to 7.9 percent in the second quarter.
Last year, China unveiled a four-trillion-yuan (580-billion-dollar) stimulus package aimed at boosting domestic demand as exports plunged and economic growth slowed.
On Thursday, Premier Wen Jiabao said China's recovery momentum was "not yet stable" and that it was too soon to back away from the stimulus policies.
Exports for the first eight months of 2009 stood at 730.7 billion dollars, down 22.2 percent year-on-year. But the monthly figures showed some improvement with August exports at 103.7 billion dollars, up 3.4 percent from July.
China's trade surplus in August totalled 15.7 billion dollars, up from 10.6 billion dollars in July.
Industrial output expanded by 12.3 percent in August from a year earlier, compared with a 10.8 percent expansion in July. Electricity output rose for the third straight month as factories cranked up activity.
Investments in urban fixed assets rose 33 percent in the first eight months of the year, on a par with growth of 32.9 percent in the January-July period.
Analysts said the numbers had beaten market expectations but China was not yet out of the woods.
"I think that the data is stronger than expected but I would argue for caution, because activity collapsed this time last year and comparisons against last year will always be favourable," Ben Simpfendorfer, a Hong Kong-based economist at Royal Bank of Scotland, told AFP.
"There was a worry that the fiscal stimulus was fading in the second half but the stable fixed asset investment data should ease those concerns," he said.
UBS China economist Wang Tao said: "The trend is quite clear -- the underlying economy is improving and economic activity will continue to increase."
New loans rebounded in August to 410.4 billion yuan after falling to 355.9 billion yuan in July, as lenders continued to pump money into the economic recovery effort, and easing fears of tighter credit.
"The solid bank lending is consistent with assurances from senior officials in recent weeks that they intend to keep policy accommodative in the near term," said Brian Jackson, a strategist at Royal Bank of Canada.