China is set to expand its economic presence in Africa at a two-day summit in the Egyptian resort town of Sharm el-Sheikh that starts Sunday.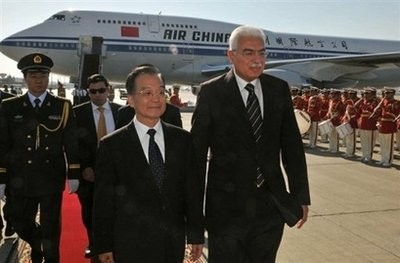 Egyptian Prime Minister Ahmed Nazif (right) greets his Chinese counterpart Wen Jiabao upon his arrival in Cairo, on November 6. (AFP Photo)
The summit, the fourth Forum on China-Africa Cooperation held every three years, will be attended by Chinese Premier Wen Jiabao and delegations from 49 African countries.
Egyptian President Hosni Mubarak, Zimbabwe President Robert Mughabe and Sudanese President Omar al-Beshir are among the other leaders due to the summit.
China is expected to increase its assistance to Africa and reduce or cancel some countries' debts, according to a draft copy of an agreement that will be signed at the end of the summit, Egyptian official news agency MENA reported.
The Asian giant pledged 5.0 billion dollars in assistance at the last FOCAC summit, held in Beijing in 2006, and has signed agreements to relieve or cancel the debt of 31 African countries.
Chinese companies have been pouring investments into oil and other raw materials in Africa to fuel the country's booming economy.
Over the past five years, Chinese direct investment in Africa has soared, from 491 million dollars in 2003 to 7.8 billion dollars in 2008, according to official Chinese figures.
Total trade between China and Africa surpassed 100 billion dollars in 2008, a ten-fold increase in eight years.
The booming trade has been accompanied by a charm offensive, with China building schools, and hospitals and clinics to fight malaria and offering scholarships for Africans to study in China.
But China's growing economic role in the poverty-ridden continent has been met with scepticism and criticism.
Beijing has been accused of throwing a life-line to pariah regimes accused of massive human rights violations, such as the government of Sudan's Beshir, who is wanted for war crimes by the International Criminal Court.
Chinese officials say the follow a policy of non-interference in the domestic affairs of African countries.
On his way to the conference, Jiabao told reporters China was not only interested in Africa's resources.
"Energy cooperation is just one area" where China and Africa were working together, he said in comments reported by the state-owned People's Daily.
"In no way has China come to Africa solely for its energy sources... The aim for China in helping Africa is to reinforce its own role in development."
Many African officials have welcomed the relationship.
"This is not, as people say, an attempt by China to colonise Africa," said Egyptian Foreign Trade and Investment Minister Mohammed Rashid.
African countries "are more than capable of sitting and discussing a win-win" relationship, he told reporters at a press conference on Saturday.