China has ordered the closure of a solar panel plant in the east of the country after hundreds of local residents staged violent protests over pollution, authorities said Monday.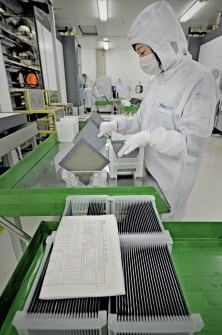 This file picture taken on November 28, 2009 shows a masked worker in a lab coat sorting silicon wafers at the manufacturing centre of solar cell maker Trina Solar in Changzhou.
The protesters broke into the factory in Zhejiang province, ransacking offices and overturning vehicles before being forced back by police in a three-day protest that began on Thursday, according to state media reports.
The closure of the plant, owned by the US-listed company Jinko Solar, comes weeks after authorities in the northeastern city of Dalian shut down a chemical factory after some 12,000 residents took to the streets over pollution fears.
It demonstrates official concern over the growing public anger about pollution in China, where an emphasis on economic growth over the past three decades has led to widespread environmental degradation.
The protesters in Zhejiang's Haining city were demanding an explanation for the death of large numbers of fish in a nearby river, China's official Xinhua news agency said.
Haining's city government said Monday tests had showed the plant in Zhejiang's Haining city was emitting excessive levels of fluoride, which can be toxic in high doses, as it announced the plant's closure.
""(We) ordered the company to halt production and overhaul the production procedures that involve emission of waste gas and waste water," it said in a statement.
"(We will) go all out to maintain stability and seriously deal with those who are suspected of violating laws in the incident in accordance with the law."
The city government also said police had detained a man for spreading "rumours" on the Internet about the number of sufferers of leukaemia and other cancers living near the plant.
Chinese authorities have repeatedly voiced concerns about the role of online social networks as citizens increasingly turn to the Internet to vent their anger in a country where authorities maintain a tight grip on traditional media.
China, which has the world's largest online population with 485 million users, constantly strives to exert its control over the Internet, blocking content it deems politically sensitive as part of a vast censorship system.
But the huge and rising popularity of weibos -- microblogs similar to Twitter that have taken China by storm since they first launched two years ago -- has posed a major challenge to the censors.
Jinko Solar, which is listed on the New York Stock Exchange, has more than 10,000 employees in plants located in Jiangxi and Zhejiang provinces, according to its website.
Company officials were not immediately available for comment