A slew of bleak data has raised fears China's economy is cooling faster than previously thought, but analysts say Beijing has only limited means to prevent a politically damaging slowdown.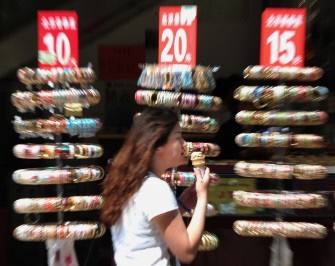 A woman walks past a jewellery store display at the Wangfujing shopping street in Beijing on May 16, 2012.
The government has set a growth target of 7.5 percent for 2012, fearing that anything below that level could trigger mass unemployment and cause widespread unrest in the world's second-largest economy.
Analysts had been predicting the economy would bottom out in the second quarter of 2012, before rebounding in the last six months, but data released last week indicate that the slowdown may be more intense and lasting.
"It's quite worrisome, and worse than before. It increasingly looks like we're seeing a very broad-based slowdown," said Zhou Hao, an analyst with ANZ Bank in Shanghai.
"We will definitely see more reserve ratio cuts in the coming months, and there may also be more spending."
On Saturday, China's central bank stepped in to reduce amount of cash banks are required to keep in reserve for the third time since last year.
The move came after data Friday showing the output from the country's millions of factories and workshops hit a near three-year low in April, with imports virtually flat, showing a stagnant local economy.
Tuesday's news that investment from crisis-battered Europe tumbled nearly 30 percent this year from the same period a year ago added to the gloom.
Economists expect the central bank to cut the reserve ratio further, freeing up the money that banks can lend to their clients to try to kickstart the economy, but they questioned whether that would be enough.
"There is not much the government can do," said Andy Xie, an independent economist based in Shanghai.
"Even if they reduce the required reserve ratio again, who are the banks going to lend the money to? Banks use land as collateral, and when the price of land goes down the way it does now, the amount of loans goes down too."
Growth in China fell to 8.1 percent in the first quarter from 9.7 percent a year earlier as domestic demand drops and Europe's debt woes curb business activity.
Economists say growth could be even ease further in the second quarter, and there have been accusations China has been too slow to react to the cooling.
"A more assertive monetary policy is now needed," research firm IHS Global Insight said in a recent note.
"We believe the government will step up efforts to stimulate the economy, even as genuine concerns remain regarding the very real possibility of over-stimulating."
The government got its fingers burned with fiscal expansion from late 2008 onwards, as it loosened the purse strings to try to mitigate the impact of the global crisis on its export-dependent economy.
Beijing launched a spending package of four trillion yuan ($630 million based on current exchange rates), kickstarting higher growth -- but also fuelling higher prices.
"The government will be more cautious than in 2008, because of the problems it created then, especially in the form of inflation," said ANZ's Zhou.
Another problem is that policy makers in Beijing largely have to act on the same economic statistics available to everyone else, and these data often provide muddled signals about the real state of the economy.
Beyond the immediate crisis, China needs bolder and more comprehensive reform of an economy still stuck somewhat in its socialist past, according to Xie.
"What China needs is structural reforms. The government needs to improve efficiency by reducing the state sector. The state sector is too big, and it is wasting tremendous amounts of money," he said.
"A lot of the growth right now is just waste. The government needs to have another attitude. It needs to change. Otherwise the problems will just mushroom."