China will allow over 2,700 Muslims to visit the holy site of Mecca this year, with pilgrims making the trip in 10 groups organised by the government, state press said Tuesday.
The pilgrims will come from the major cities in China's Xinjiang region including Urumqi, Yili, Kashgar and Hotan and will undergo training courses covering security concerns and basic language needs, Xinhua news agency said.
The government-run ethnic affairs commission will be in charge of the tour groups and accompany the travellers, it said.
More than 30,000 Chinese Muslims have made the pilgrimage to Mecca in Saudia Arabia over the last 20 years, including 2,800 last year, the report said.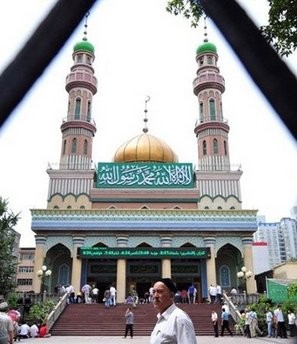 Uighur Muslims arrive for Friday prayers at the Yanhan Mosque in Urumqi on July 17, 2009 in northwest China's Xinjiang province.
An increasing number of Chinese Muslims embarking on the holy pilgrimage reflects rising living standards in China, with the costs of such trips averaging about 40,000 yuan (5,850 dollars) a person, it said.
Clashes broke out in Xinjiang on July 5, leaving at least 197 people dead and over 1,600 injured in the worst ethnic violence to hit China in decades. The unrest began with a peaceful protest by Uighurs but proceedings quickly turned violent as Uighur mobs attacked members of China's dominant Han ethnic group.
Chinese authorities say most of the dead were Han and blamed the violence on extremist and separatist groups.
The unrest has put a spotlight on China's roughly eight million Uighurs, who have complained of religious and cultural oppression since the officially atheist Chinese communists came to power 60 years ago and tightened control on Xinjiang.
Many Uighurs say they are prevented from going on the hajj, the trip to Mecca which all Muslims are obliged to make in their lifetime if they have the means.
But the State Bureau of Religious Affairs earlier this month denied this in a statement to AFP, saying Muslims were allowed to go in specially-designated groups.