The Beijing Olympic torch relay will be altered so that the flame goes through earthquake-ravaged Sichuan province shortly before the Games, organisers said Thursday.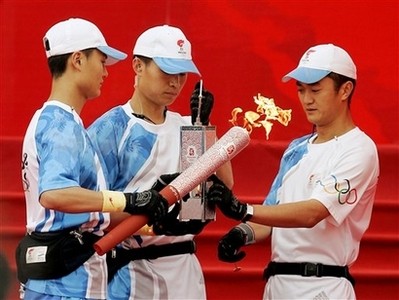 Officials light the Beijing Olympic torch with the Olympic Flame to resume its journey through China after a minute of silence Thursday and a three-day mourning period for victims of the earthquake Thursday, May 22, 2008. (AFP Photo)
The torch will go through Sichuan from August 3 to 5, the Beijing Games organising committee said in a statement on its website.
It said the route had been changed "to support the relief works in the quake-hit area".
The organisers issued the statement as the torch relay resumed in the eastern port city of Ningbo following a three-day suspension that was called as part of national mourning for the quake victims.
The earthquake, which struck on Monday last week, has left more than 74,000 people dead or missing. More than 5.2 million others lost their homes.
The torch had been scheduled to pass through Tangshan, the city destroyed in a 1976 earthquake that left 240,000 people dead, on August 3, and then to the northern city of Tianjin on August 4-5.
They were due to be the final stops for the torch before coming to Beijing on August 6, two days before the Games opening ceremony.