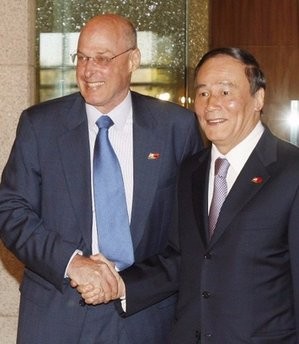 US Treasury Secretary Henry Paulson (left) meets Chinese Vice Premier Wang Qishan for the Strategic Economic Dialogue in Beijing on Dec. 4. (AFP Photo)
US Treasury chief Henry Paulson said Friday the United States and China would make 20 billion dollars available in trade financing to boost commerce amid the global slowdown.
"To support trade flows during this period of financial turmoil the US and China announced today that our two export-import banks will make available an additional 20 billion dollars for trade finance, particularly for creditworthy importers in developing economies," Paulson said.
He made the remark at the end of the two-day Strategic Economic Dialogue, a high-level Sino-US meeting in Beijing, held against the backdrop of the worst global financial crisis in decades.
One of the main themes in the two days of talks at the Diaoyutai State Guest House in western Beijing has been about ways to open up global trade flows in order to boost the economy.
"Both sides believe that in the face of the growing challenges posed by the... crisis, we must fully oppose all forms of protectionism," Vice Premier Wang Qishan, the head of the Chinese team, told reporters.
"We stand ready to work actively with other countries in the world to promote the early resumption of the WTO Doha round of negotiations so as to... promote prosperity and growth of the world economy and trade."
The last round of Doha trade talks collapsed in July when the United States and India clashed over measures to protect poor farmers against import surges.