China on Thursday welcomed the announcement that US envoy Stephen Bosworth would visit Democratic People's Republic of Korea next month for direct talks aimed at bringing Pyongyang back to nuclear disarmament negotiations.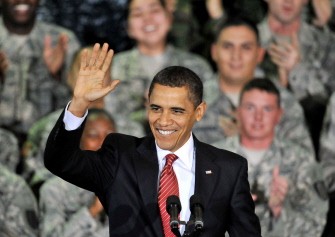 US President Barack Obama speaks to US troops at a US military airbase in Osan, south of Seoul, on November 19, 2009. Photo: AFP
"We support and welcome the bilateral dialogue between the United States and the DPRK ," foreign ministry spokesman Qin Gang told reporters.
"We hope the moves by relevant parties will be conducive to the resumption of six-party talks and the peace and stability of the Korean peninsula."
US President Barack Obama said in Seoul earlier Thursday that Bosworth would go to the North on December 8, in a bid to bring DPRK back to six-party talks aimed at ending Pyongyang's nuclear weapons programme.
The North quit the negotiations -- which group the two Koreas, the United States, China, Russia and Japan -- in April, a month before staging a second atomic weapons test.
DPRK leader Kim Jong-Il said last month his country was ready to return to the talks but only if bilateral discussions with the United States were satisfactory.