Agricultural Bank of China on Wednesday kicked off a share offer worth a world-record 23.2 billion dollars as China strives to develop depressed regions in the rural lender's heartland.
AgBank, the last of China's "big four" state banks to list, plans to float its shares in Hong Kong and Shanghai next month with the monster IPO appearing set to overtake a previous record of 22 billion dollars set in 2006 by Industrial and Commercial Bank of China.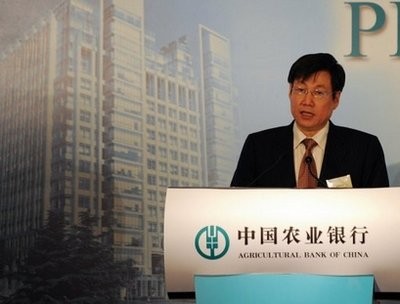 Zhang Yun, Vice Chairman and President of the Agricultural Bank of China speaks at a press conference in Hong Kong on June 29, 2010
The initial public offering has already won bedrock support from heavyweight investors -- including Qatar's sovereign wealth fund, British bank Standard Chartered and US food giant Archer Daniels Midland.
On Wednesday, small-time retail investors had their first chance to grab a piece of the action and orderly queues were building outside bank branches in Hong Kong where the AgBank prospectus was being handed out.
AgBank chairman Xiang Junbo said late Tuesday that his company had worked hard to cut its bad-debt load, a major concern for all of China's big banks after a state-sanctioned lending binge during the global financial crunch.
And the rural lender says it is poised to capitalise on Chinese government efforts to boost economic growth in the country's centre and west, which have missed out on the export-driven boom enjoyed by coastal regions.
"The county area business will be one of our key profit drivers," Xiang told a news conference in Hong Kong. "(AgBank) is well positioned to capitalise on China's next wave of growth."
On Tuesday, AgBank said it planned to raise 13.1 billion US dollars from its Hong Kong IPO, with a price range of 2.88-3.48 Hong Kong dollars (37-44 US cents) a share.
The lender plans to raise 10.1 billion dollars from the Shanghai portion of the share sale, with a range of 2.52-2.68 yuan (37-39 US cents) a share.
The lower price in Shanghai has fostered doubts about mainland demand for the huge IPO after recent spasms of market volatility.
Some analysts consider AgBank to be the weakest of the country's big banks, owing mainly to its burden of bad loans and the nature of its business lending to less affluent customers in rural China.
Analysts say the return on capital from rural loans is typically 20-30 percent less than that for loans in urban areas, as the size of the loans is generally smaller and monitoring costs higher.
Agbank's prospectus said its bad debt ratio dropped from 4.32 percent in 2008 to 2.91 percent in 2009.
AgBank said it booked a profit of 65 billion yuan (9.56 billion US dollars) in 2009, up from 51.45 billion yuan in 2008. It forecasts a 2010 profit of 82.9 billion yuan.