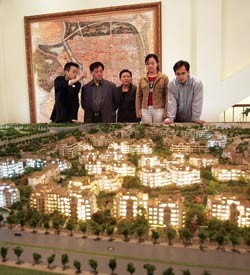 A real-estate salesman intruduces a house project being developed on the outskirts of Beijing, 04 May 2006 (AFP Photo)
The statement by Li Yong, Vice Minister of Finance, at the annual Asian Development Bank meeting in this southern Indian city came as he said economic growth in 2006 could hit 9.5 percent without new fiscal and monetary steps.
The concern about overheating comes after the economy expanded by faster-than-expected 10.2 percent in the first quarter over the same period the previous year, after posting a rate of 9.9 percent for all of 2005.
"During the first quarter of 2006 we have tried to balance investments in certain sectors," the minister told delegates.
"These sectors such as real estate and steel became overheated in 2005. Our central bank is trying to cool down overinvestment in these sectors," he said.
Housing has become so expensive in China that seven out of 10 urban families cannot afford their own homes, the state-owned Xinhua news agency said.
In April the People's Bank of China boosted the one-year benchmark lending rate by 27 basis points to 5.85 percent to brake credit and control "excessively fast" release of bank loans.
It forecast growth of 8.9 percent for 2006.
Analysts said the decision to raise interest rates for the first time in 18 months was only the first in a series of measures aimed at preventing the booming economy from overheating.
"We will make adjustments (in the interest rate) if it is appropriate. We will gradually adjust the rate," junior finance minister Li said.
Li added that China's foreign exchange reserves had increased dramatically and "personally I do not like that ... foreign exchange reserves will be reduced to a certain extent." He did not say by how much.
China's foreign exchange reserves, the world's largest, hit 875.1 billion dollars by the end of March, the central bank said.
"The forex regime is linked to a basket of currencies based on the demand and supply of the market. The equilibrium is more appropriate when decided by the market," Li said.
China abandoned its dollar peg last year and revalued the yuan upward by 2.1 percent.
Li warned that "the indigenous inertia of investment-boosted growth is still strong and more sectors were plagued by overcapacity."
"The increasing price of primary products in the world market exerts a mounting pressure on China's sustained and balanced economic development," he added.