China's economy grew 7.9 percent in the second quarter of 2009, the government has said, in a startling turnaround for the Asian powerhouse fuelled by a massive stimulus package.
Expansion in the world's third biggest economy picked up pace again after growing by just 6.1 percent in the first quarter of the year, which was the slowest growth in more than a decade.
China's gross domestic product grew by 7.1 percent in the first half of 2009 compared with the same period a year earlier, the National Bureau of Statistics said.
This put China back on track to achieve its goal of 8.0 percent growth for the whole year, despite the global financial crisis, however the government warned many pitfalls still lay ahead.
"There are many difficulties and challenges existing in the current national economic performance," bureau spokesman Li Xiaochao told reporters.
"The base for recovery is still infirm. The momentum for picking up is unstable. The recovery pattern is unbalanced and thus there are still uncertain volatile factors."
Before the global economic crisis struck last year, China had experienced double-digit growth from 2003 to 2007.
The government in November implemented a four-trillion-yuan (580-billion-dollar) package in November last year that has had dramatic results.
China's urban fixed asset investments, a measure of government spending on infrastructure, rose 33.6 percent in the first half of 2009 compared with the same period a year earlier, the bureau said.
Investments in urban fixed assets increased by 35.3 percent in June year-on-year, according to the bureau.
China's consumer price index, the main gauge of inflation, fell 1.7 percent in June compared with the same month a year earlier, a further decline from May's drop of 1.4 percent, the bureau said.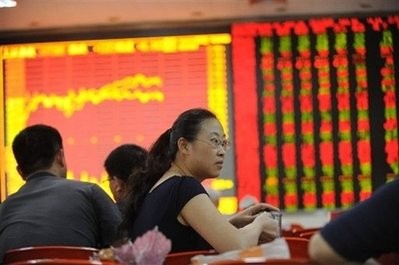 Sstock investors check share prices at a security firm in Hefei in eastern China's Anhui province in early July
However analysts said inflation could make a quick return and prove a problem for China's economic planners.
The consumer price index grew 5.9 percent in 2008 but weakened significantly as the global crisis slowed China's economy.
China's industrial output, which illustrates activity in the nation's millions of factories and workshops, expanded by 9.1 percent in the second quarter of 2009 from a year earlier, the bureau said.
In June, industrial output increased by 10.7 percent, and by 7.0 percent for the first half of 2009.