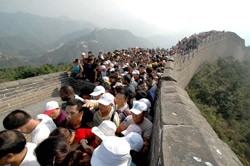 Chinese and foreign tourists line up along the Great Wall of China at Badaling Pass, Sep. 27, 2006. Tourism is one of the strongest industries of China (AFP Photo)
China's growth is slowing marginally but the economy is still forecast to grow by a super-fast 10.5 percent this year, the central bank's research bureau said in a report published Friday.
China's economy grew 11.3 percent year-on-year in the second quarter of the year and 10.9 percent for the first six months, spurring the government to step up cooling efforts with measures such as interest rate hikes.
The government set a target at the beginning of the year for growth of around eight percent in 2006.
The People's Bank of China's research arm said in Friday's report, published in the official China Securities Journal, that gross domestic product (GDP) was now forecast to grow 10.5 percent in 2006 with the consumer price index up 1.5 percent.
It said GDP would expand 9.5 percent in the first half of 2007 and inflation would be around 1.8 percent, with China still facing price pressures despite falling oil prices and a slower increase in money supply.
"Currently, the tendency of rising prices is stabilizing but inflation pressure still exists. Price levels will tend to pick up slightly," the report said.
The upward pressure on prices will come from crude oil and non-ferrous metals, reforms to the pricing structure of domestic resources and tighter controls on land use, it added.
Source: AFP