China's top negotiator with Taiwan Chen Yunlin left for Taipei early Monday for high-level talks in a further sign of warming ties between the traditional foes, state media said.
Chen left Beijing at about 7:30am (1130 GMT) to start his historic visit, Xinhua news agency said.
Chen, head of China's quasi-official Association for Relations Across the Taiwan Strait (ARATS), will become the highest-ranking Chinese official to visit the island in nearly six decades.
ARATS is authorised by Beijing to handle civilian exchanges with Taipei in the absence of official contacts.
"The visit of (the) ARATS chief to Taiwan is of historical significance and is a key step marking the development of cross-Strait relations," State Council Taiwan Affairs office director Wang Yi said after seeing Chen off at the airport, according to Xinhua.
Chen and his Taiwanese counterpart Chiang Pin-kung will focus their dialogue on increasing direct passenger flights, opening direct cargo flights and shipping links, as well as shortening existing flight routes across the Taiwan Strait and food safety issues.
The duo are expected to sign agreements on the issues which analysts say would bring the island and the Chinese mainland closer.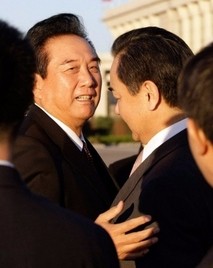 China's top negotiator with Taiwan Chen Yunlin (L) says goodbye to Wang Yi, director of China's National Taiwan Affairs Office as he leaves Beijing for Taiwan at the Beijing international airport
They met in Beijing in June for the first direct dialogue between the two sides after a 10-year gap, leading to the launch of regular direct flights between across the Strait and measures to boost tourism.
Chen is also likely to meet Taiwan's President Ma Ying-jeou, who was elected in March on a platform of improving ties with China and allowing visits by more Chinese tourists.
The envoys will hold a joint press conference on exchanges of endangered species, with China offering two pandas.
Beijing first made the panda offer during a historic trip to China in 2005 by Taiwan's then opposition leader, former Kuomintang chairman Lien Chan.
However, Taiwan's former president Chen Shui-bian, who regularly infuriated Beijing with his pro-independence rhetoric, banned the import of Chinese pandas during his tenure on grounds that Beijing attempted to use them as diplomatic propaganda.
Chen Yunlin's visit comes amid heightened security, after his deputy Zhang Mingqing was shoved to the ground two weeks ago in southern Taiwan -- a stronghold of the pro-independence Democratic Progressive Party (DPP).
Last month, up to half a million DPP supporters took to Taipei's streets to denounce closer ties with Beijing, which they said threatened the island's sovereignty.
The DPP has vowed to stage protests throughout Chen's five-day stay here, with 7,000 police on duty, the National Police Agency has said.
On the eve of the talks, Ma sought to allay the DPP supporters' fears by saying that he would not "budge an inch" on the island's sovereignty dispute with China, local newspapers said.