China had 41,000 kilometers (25,400 miles) of expressway at the end of last year and has the second most extensive network in the world behind only the United States, the China Daily said.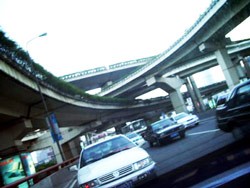 Yanan Elevated Highway, one of Shanghai's busiest highways
From 2001 to 2005, China added 24,000 kilometers and there are no plans to slow the pace of road construction, the newspaper cited government officials as saying.
"Our plan for the next five years is to maintain the same speed as in the previous five years," said Dai Dongchang, director of Transport Planning and Research Institute at the Ministry of Communications.
The ambitious construction schedule is of huge importance for China's future growth prospects as at least 60 percent of its economy is facilitated by road transport, the China Daily said.
"Although transportation is no longer a bottleneck for the economy, we still need to expand its role," Dai said.
After its completion in 2010, the Chinese expressway network will connect all provincial capitals and cities with at least half a million people, the newspaper said.
People in coastal provinces will be able to reach good roads within half an hour of travel from their homes, while the time span will be within one hour for central China and two hours for the less developed western regions.
Over the longer term, the plan is to increase the total length of expressways to at least 85,000 kilometers by 2020, or just short of the current US network of about 90,000 kilometers, the newspaper said.
During the period, about two trillion yuan (250 billion dollars) will be raised for road development from overseas and private investors.
The planned expressway network will also stretch to Hong Kong and Macao, and include the proposed Hong Kong-Zhuhai-Macao Bridge. A feasibility study on a road link across the Taiwan Straits is also being conducted, the newspaper said.
At least three major expressways will be built to link China's major economic hubs such as the Pearl River Delta, the Yangtze River Delta and the Bohai Sea Rim areas before 2020.
Source: AFP