Chinese President Hu Jintao arrived in Russia on Monday for a three-day trip expected to bring up to four billion dollars in trade deals and include talks on Iran and North Korea.
Hu said the trip, his third to Russia since becoming president, would further cement economic and diplomatic relations that have grown significantly since the collapse of the Soviet Union in 1991.
"I believe that, through joint efforts by both sides, the visit will bear substantial fruits, and inject new impetus into the growth of China-Russian ties," China's state-run Xinhua news agency quoted Hu as saying.
Hu and President Vladimir Putin will oversee the signing of trade deals worth up to four billion dollars (three billion euros), Russian and Chinese media reported.
Both sides said bilateral trade jumped over the past year, though their statistics differed greatly: China said trade grew about 15 percent to 33.4 billion dollars in 2006, while Russia said trade grew 43 percent to 28.6 billion dollars.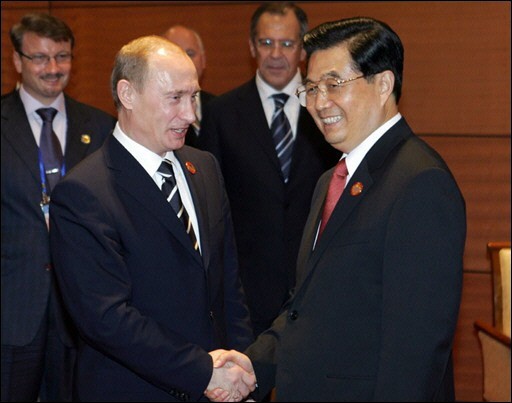 China President Hu Jintao ( R) and Russia President Putin
"We recognize that the disparity is there and that it is significant," said Vladimir Zubkov, a spokesman for the Russian customs service, commenting on the contradictory statistics. Efforts were being made to remedy the problem, he said.
Nearly 200 Chinese companies selling everything from aerospace technology to tea will showcase their products during the visit at a trade exhibition in Moscow, China's biggest ever in a foreign country.
Moscow and Beijing hope to raise trade to 60-80 billion dollars by 2010.
Energy will be another key theme as China continues its quest to secure more resources for its population of over 1.3 billion people.
In addition to a new agreement on deliveries of oil by rail, Hu and Putin will discuss a Siberian oil pipeline Russia is building that the two sides have clashed over.
Resource-rich Russia in 2003 rejected plans for a single pipeline to China, choosing instead to skirt its neighbour with a line to Russia's Pacific coast.
Since then, Beijing has pushed hard for an additional branch to China's Daqing, the centre of the country's oil industry.
Russia delivered 15 million tonnes of oil to China in 2006, 11 million tonnes of it by rail.
Moscow's plans to ship more oil and gas to China have sparked concerns that supplies to the West might suffer, but Chinese Assistant Foreign Minister Li Hui sought to ease those fears last week.
"Energy cooperation between China and Russia... will not undermine the interests of other countries or impact the world energy landscape," he said.
As energy ties have grown, Moscow and Beijing have also boosted diplomacy via the Shanghai Cooperation Organisation and other groups, repeatedly calling for a multipolar world order that would balance US power.
They have taken closely aligned positions in talks meant to end North Korea's nuclear weapons programme and stem Iran's nuclear ambitions -- both of which Putin and Hu planned to discuss, the Kremlin said in a statement.
Russia and China, which have energy interests in Iran, are key players in Tehran's stand-off with the West as permanent members of the United Nations Security Council.
The two have sought to blunt US pressure on Tehran over its nuclear programme, though both approved stricter sanctions against the Islamic republic on Saturday for continuing uranium enrichment in spite of previous UN resolutions.