BEIJING, Jan 18, 2011 (AFP) - Chinese President Hu Jintao headed to the United States on Tuesday, Xinhua news agency reported, for a visit that comes at a time of tension and stress in Sino-US relations.
Hu was to begin the visit in Washington with a private dinner on Tuesday evening in the White House residence, hosted by US President Barack Obama and to be attended by only a few senior officials from each side.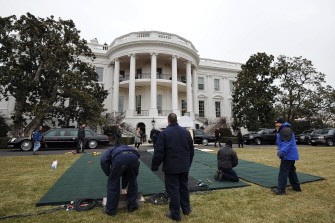 Workers make a platform on the South Lawn at the White House in preparation of Chinese President Hu Jintao's state visit in Washington, DC, on January 17, 2011. AFP
Obama will then lay on the pageantry of a state visit on Wednesday, including talks in the Oval Office and a state dinner, before Hu heads to Chicago for talks with business leaders. The visit will end on Friday.
Chinese state media reported Tuesday, citing unnamed sources, that a series of deals was expected to be signed during the visit, including the sale of Boeing aircraft to China, where the aviation sector is booming.
Another possible major deal in the works is one that would see China help the United States develop its high-speed rail network, the China Daily said.
In September last year, then California governor Arnold Schwarzenegger said during a visit to Shanghai that he hoped China would invest in his state's future high-speed rail network.
Other agreements signed would focus on bilateral trade, energy, environmental protection, infrastructure building, and cultural exchanges, the China Daily said.
Chinese and US businesses on Monday signed deals worth $600 million in the southern state of Texas, China's Xinhua news agency reported.
Both sides are keen to put a fresh face on their testy ties.
China on Monday unveiled a 60-second promotional video in New York City's Times Square featuring basketball great Yao Ming and pianist Lang Lang. Hu also plans to meet with ordinary Americans during his Chicago stop, Beijing said.
Obama is meanwhile rolling out the red carpet and 21-gun salute that his predecessor George W. Bush reserved for the leaders of democracies.
The two sides nevertheless recognise the deep divisions that have cropped up over the past year -- on the value of the yuan, the yawning trade gap, human rights, US arms sales to Taiwan and maritime rivalries in the Pacific.
In a rare interview with foreign media ahead of the trip, Hu acknowledged the "differences and sensitive issues" between the two nations, but said cooperation would serve both sides.
"We both stand to gain from a sound China-US relationship, and lose from confrontation," he told the Washington Post and the Wall Street Journal in a written interview.