China said Thursday that consumer prices rose in February for the fourth straight month while new lending slowed sharply from a month earlier as Beijing pledged to step up efforts to tame inflation.
Analysts said the jump in prices would not trigger a knee-jerk response from policymakers in the world's third-largest economy but the data raised the prospect of more drastic tightening measures later in the year.
The consumer price index, the main gauge of inflation, rose 2.7 percent in February compared with the same month a year earlier, the National Bureau of Statistics said.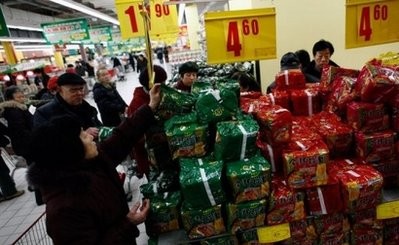 People are pictured shopping for food at a supermarket in Beijing.
Officials insisted the increase was manageable and in line with the three percent inflation target put forward by Premier Wen Jiabao last week in his speech to open China's annual parliamentary session.
"We believe this year's price rises will be mild and controllable so we have to stabilise inflationary expectations," NBS spokesman Sheng Laiyun told a news conference.
"Judging from the current situation, investment, consumption and foreign trade are better coordinated, so we don't see any signs of economic overheating."
Inflation accelerated from January, when prices rose 1.5 percent, in part because the Lunar New Year holiday -- when Chinese splash out on food, alcohol, cigarettes and gifts -- fell in February this year.
Last year, the holiday was in January.
Bad weather also drove up food prices, Sheng said.
In the first two months of the year, consumer prices increased by 2.1 percent from the same period in 2009.
Analysts agreed the inflation spike was in large part seasonal.
"We believe this is purely the Chinese New Year holiday effect -- it says nothing about rising inflationary pressure in China," Lu Ting, an economist at Bank of America-Merrill Lynch, told AFP.
"We don't believe that the PBoC (People's Bank of China) will hike rates in response. We stick to our view that interest rates will be hiked in the second half."
The robust data boosted the euro against the safe-haven dollar in Asian trade, signalling growing confidence in the global economic recovery.
In the past week, senior Chinese officials have been at pains to ease fears about inflation, with the chairman of the banking regulatory commission saying it was unlikely that price increases would be "more than moderate".
"Don't get into too much of a panic or be afraid about inflation," Liu Mingkang told the official Xinhua news agency on Wednesday.
Royal Bank of Canada senior strategist Brian Jackson said price pressures would continue to build, eventually requiring tougher action if Beijing wants to meet its recently announced inflation target for the year.
"If Premier Wen wants to keep CPI inflation at three percent for 2010 and prevent the economy from overheating, he will probably need to use all the tools at his disposal, including higher interest rates and a stronger currency," he said.
China has taken steps to calm inflationary pressures by ordering banks to increase their capital reserves three times since December -- effectively limiting the amount of money they can lend -- amid mounting fears of bad debts.
Analysts said the measures seemed to be working, with official data showing new lending reached 700.1 billion yuan (102.57 billion dollars) last month, compared with 1.39 trillion yuan in January.
In other signs of China's strong emergence from the crisis exports surged 45.7 percent on-year in February and industrial output expanded by 20.7 percent on-year in the first two months of 2010.
Retail sales, the main measure of consumer spending, rose by 17.9 percent on-year to 2.5 trillion yuan in the January-February period.
Fixed asset investment in urban areas rose 26.6 percent to 1.3 trillion yuan in the first two months, compared with the same period a year earlier.
In another indicator of the country's soaring wealth, China this year for the first time has moved into second place on the Forbes rich list, with 64. Including Hong Kong, the Chinese account for 89 billionaires.