China's inflation rate hit a 17-month low of 4.0 percent in October, down from 4.6 percent the previous month, the government said on Tuesday.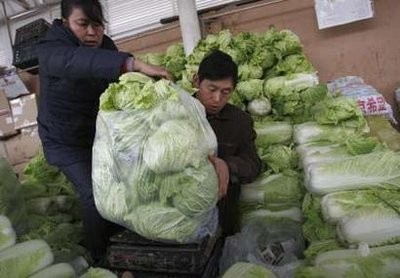 Vendors weigh cabbages in a market in Beijing, November 11, 2008.
The figure is the lowest since May last year, confirming a trend for weakening inflation in the world's fourth-largest economy, as growth creation becomes more of a policy concern.
The consumer price data from the National Bureau of Statistics were released a day after China announced that wholesale prices -- another inflation gauge -- eased to 6.6 percent in October, down from 9.1 percent in September.
The significant fall in wholesale prices indicated a sharp drop in demand, Zhang Xinfa, a Beijing-based economist with Galaxy Securities said.
Food prices, the main factor in driving up consumer prices in China recently, rose by 8.5 percent in October, down from 9.7 percent in September, according to the bureau.
China began 2008 with inflation control at the top of its list of priorities, but with the trade surplus likely to shrink this year, economic growth has become the dominant policy objective in Beijing.
"The downtrend in inflation has allowed the government to take more aggressive monetary and fiscal action without stoking consumer prices," JP Morgan's Jing Ulrich said in a note.
China unveiled a 586-billion-dollar stimulus package this week, in the strongest indication yet that the government is concerned about the impact the global crisis has on domestic growth.
The fiscal stimulus was welcome news but it will take time for its effects to be felt, and in the meantime, both inflation and activity growth are expected to fall further, Goldman Sachs economist Yu Song said.
In the first 10 months of the year, China's consumer price index (CPI) increased 6.7 percent from the same period last year.
China's fourth quarter CPI is likely to fall within Beijing's target of 4.8 percent, but high inflation in the first half of the year means it is unlikely to meet its target for the whole year, Moody's economist Sherman Chan said.
"Nevertheless, slowing inflation gives the People's Bank of China the green light to cut interest rates in coming months, helping to shore up the cooling economy," she said.