SHANGHAI, Jan 19, 2011 (AFP) - The world's biggest annual migration of people began in China Wednesday as millions of travellers boarded trains and buses across the country to journey home for the Lunar New Year celebrations.
The Ministry of Transport said the number of passenger trips on trains, planes, boats and buses is expected to reach 2.6 billion in the period before, during and after the holiday -- 11.6 percent more than last year.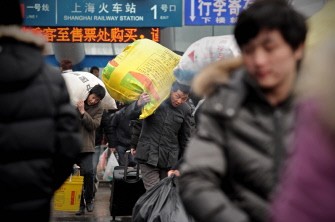 People arrive at the central railway station in Shanghai on January 19, 2011. AFP
In Shanghai, migrant workers in dusty clothes with massive bundles of belongings on their shoulders streamed into the city's main train station as light snow flurries fell.
"It took me three days to buy a hard-seat ticket," Zhang Guoxing, a 29-year-old construction worker, said before setting out on an 18-hour journey to Hunan in central China.
"I'm lucky this year because I can leave Shanghai for home earlier, last year I spent five days trying to get a ticket," he said, adding he had to wake up at 4:00 am to line up for a ticket before the daily allotment sold out.
Although the week-long holiday, also known as the Spring Festival, officially begins on February 3, demand for tickets is high many weeks in advance. The festival travel season is expected to end on February 27.
Most of the passengers are migrant workers who travel home to see their families only once a year for the country's most important holiday.
The number of passenger trips has risen steeply from 1.66 billion a decade ago, the official Xinhua news agency said.
"Sound economic growth is the reason for the increase. Higher incomes and better transport facilities make it easier for people to travel," Xu Guangjian, deputy dean of Renmin University's School of Public Administration in Beijing, was quoted as saying.
An average of 2,265 trains per day will carry holiday travellers over the period, deputy railway minister Wang Zhiguo said at a news briefing.
He added nearly 300 additional trains had been enlisted to carry a record 230 million passengers expected over the peak period.
Wang acknowledged there would be ticket shortages and said it would be five years before China's fast expanding rail network could meet demand.
For some migrant workers, though, improved train services could come at a high price.
"I heard in future faster trains will take half the time, but it also means the prices will double. I cannot afford that much," said Ren, 22, before leaving for the southwestern city of Chengdu.
Many migrant workers decided to return home early this year to save money because the cost of necessities such as food were rising so quickly in the cities, according to state media reports.
Domestic food prices soared in 2010, driving up inflation to 5.1 percent in November, the fastest increase in more than two years.
The annual mass migration often triggers short-term labour shortages, leaving factory owners anxious about when their workers will return -- or whether they may go elsewhere in search of better opportunities.
In the southern province of Guangdong, some firms have even offered pay rises or free tickets home to encourage workers to stay until the end of the month.
Wang Jianping, a manager at Hexian Garment Factory in Guangdong's Dongguan city, said he has been scrambling to buy tickets for his remaining workers after three quarters left already.
"The 100 that are still here stayed because their homes are not that far but they are only willing to work until the end of the month if we can secure tickets," Wang was quoted as telling Xinhua.