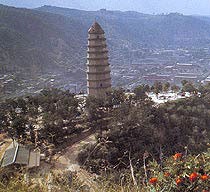 Chinese northwest province of Shaanxi
"As we make efforts to find those missing, we must also place importance on water pollution after the dam burst and safeguard the drinking water supplies of people downstream," the Central Broadcast Station quoted Mr. Hu as saying.
Mr. Hu was speaking after the dam at a gold mine near Miliang township in Shaanxi province burst on Sunday, triggering landslides and sending waters laced with potassium cyanide into the Huashui river, the report said.
Waters and other waste from a holding pond behind the dam triggered the landslides that destroyed 20 homes in a village near Miliang, it said.
The provincial government has ordered residents living on the two banks of the river not to drink the water, while five towns below the spill have been ordered to monitor water quality, it said.
A local official played down the threat to residents' water supplies when contacted by AFP.
"I don't think it will affect the drinking water because all the towns and villages in that area get their drinking water from mountain springs or wells," a Zhenan county official surnamed Wang told AFP by phone.
"At this point we have no plans to transport drinking water into that area."
It was not immediately clear how many people in the impoverished area would be affected by the spill, he said.
Local mine officials in Miliang told AFP that efforts to find the missing people began only on Thursday as efforts over the past three days have been focused on containing the pollution.
Including the gold mine accident, China has witnessed three mining mishaps since Saturday that have left at least 63 people dead or missing.
Source: AFP