Premier Wen Jiabao opened the annual session of China's parliament Monday with a call for more sustainable economic growth, warning that development was exacting too great a social and environmental toll.
In front of nearly 3,000 delegates at the Great Hall of the People, Wen delivered an annual work report that focused on rebalancing China's economy, which has roared ahead at double-digit pace over the past four years.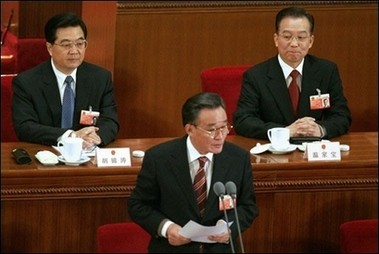 Chinese President Hu Jintao (L) and Premier Wen Jiabao (R) look at NPC Chairman Wu Bangguo announcing the opening of the annual National People's Congress (NPC)
"We should... avoid seeking only faster growth and competing for faster growth," Wen said, setting the tone for the 12-day session of the National People's Congress.
He called for a stronger effort to protect the environment, after China missed its targets to improve energy efficiency and pollution emissions last year.
"The pattern of economic growth is inefficient. This can be seen most clearly in excessive energy consumption and serious environmental pollution," he said.
"We must attach greater importance to saving energy and resources, protecting the environment and using land intensively."
Wen acknowledged that ordinary people's interests were being sacrificed in the race for riches, as he outlined measures to bridge the fast-widening wealth gap, particularly between the modernising cities and undeveloped rural areas.
"We must put people first, promote faster progress in social programmes, work energetically to... safeguard social fairness and justice, and ensure that all of the people share in the fruits of reform and development."
The premier said the government would endeavour to boost farmers' incomes and improve the social safety net, such as through expanding a rural medicare system, as well as pump more money into the agricultural industry.
Wen also addressed the issue of government corruption, which President hu Jintao has warned is one of the greatest threats to the Communist Party's legitimacy as a governing body.
"Quite a few local governments, government offices and organisations compete with one another for lavishness and spend money hand over foot, which arouses strong public resentment," Wen said.
"We must put a resolute stop to these unhealthy practices."
Wen projected the economy, the world's fourth biggest, would grow by "about eight percent" in 2007.
However Wen has in recent years set similar targets, only for them to be exceeded, and he acknowledged on Monday that the forecast for 2007 may again prove inaccurate.
In one of the most concrete reforms to be addressed at the congress -- which has never rejected a proposal put forward by the Communist Party elite -- Wen said a law ending preferential tax rates for foreign companies would be passed.
"The timing and conditions are now ripe for unifying the enterprise income tax rates for domestic and overseas-funded enterprises," Wen said.
Foreign companies have up until now paid an income tax rate of 15 percent, compared with 33 percent for local enterprises. Under the new law, a tax rate of 25 percent will apply to all companies.
Another law widely expected to pass, but not mentioned by Wen, would give unprecedented protection for private property rights.
The Property Law aims to offer protection for both private and public ownership, a move that has been fiercely resisted by Communist Party hardliners in recent years.
A day after the government announced that the nation's military budget would rise 17.8 percent from last year to 350.9 billion yuan (about 45 billion dollars) in 2007, Wen said China would continue to strengthen its armed forces.
"Building a solid national defence system and a powerful people's army is a strategic task in socialist modernisation," Wen said.