Premier Wen Jiabao says he "cannot relax" due to soaring prices in China that have led to steep rises in the cost of food, vowing to step up the fight against the politically sensitive inflation rate.
The government in the world's second-largest economy has been struggling to bring the spiralling prices under control and fears they could spark unrest as living expenses spike for many millions.
"Prices are high currently, and I cannot relax," Wen told residents in the northeastern port city of Dalian, according to a statement posted on the central government website late Friday.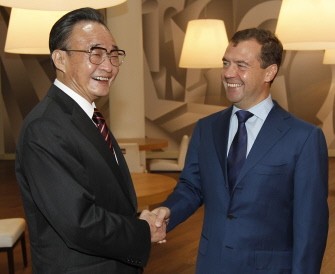 President Dmitry Medvedev (R) shakes hands with China's National People's Congress Standing Committee Chairman, Wu Bangguo (L), as they meet somewhere in an undisclosed location outside Moscow, on September 16, 2011
"The government will continue to take measures to control prices."
China has already implemented a number of policies over the past year to try to slow inflation, including restricting the amount of money banks can lend and hiking interest rates five times since October last year.
In a sign that these policies are starting to work, the consumer price index (CPI) -- the main gauge of inflation -- rose 6.2 percent in August, down from a more than three-year high of 6.5 percent in July.
But analysts warned that price pressures would continue to put pressure on the government and poured cold water on hopes that authorities might relax monetary policy -- claims reinforced by Wen's comments.
The government had originally set a target of four percent for inflation in 2011, but Wen has already admitted it will be difficult to keep CPI within that target.
In June, he said that fighting rising prices remained a priority and hoped to bring the level under five percent with "hard work".
Food prices are of particular concern, as they affect the daily lives of everyone in the country, with foodstuffs accounting for more than one-third of the monthly spending of the average Chinese consumer.
Wen acknowledged this, saying food was "indispensable," according to the statement.
"To resolve the issues of food supply and prices, we have to bring into play the role of market mechanisms and also carry out macro-control," he said.
According to the National Bureau of Statistics, which made public China's August inflation rate last week, year-on-year food price rises that month slowed to 13.4 percent from 14.8 percent in July.
But Wen still expressed concern about the value of food. "Currently, meat prices are basically stable, but in the past few days, they have increased again," he said.
He added the government was looking at ways to encourage farmers to raise pigs, in a bid to stabilise the price of pork, China's meat of choice.
Wen toured Dalian after delivering the opening speech at the summer session of the World Economic Forum, which this year attracted about 1,500 business leaders and government officials from 90 countries.
This week, Zhang Xiaoqiang, vice head of the National Development and Reform Commission -- China's top economic planning agency -- said inflation had reached a "turning point" and would stabilise in the coming months.
However, analysts have warned that any fallback will be slow, and like Wen in June, Zhang conceded that the government's 2011 target of four percent was likely to be exceeded.