Premier Wen Jiabao signaled for the first time that China would struggle to meet its 4 percent inflation target this year.
"China's financial situation will still be among the best in the world this year, with economic growth kept above 8-9 percent, and CPI controlled under 5 percent," Wen told Hong Kong television media during the England leg of his Europe tour.
Although Wen's latest comments are not as upbeat as his remarks on Friday when he said China's inflation is firmly under control this year and should cool steadily, they are unlikely to alter investor bets on China's monetary policy outloo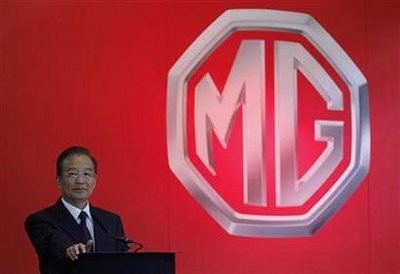 Chinese Premier Wen Jiabao delivers a speech during his visit to the MG motor plant in Birmingham, central England June 26, 2011
Many economists have long expected China to breach its inflation target for the year given that the inflation rate is well above the 4 percent mark since January, and is expected to peak at 6 percent in June or July.
A Reuters poll of economists in June showed a median forecast for China to increase benchmark lending and deposit rates by another 25 and 50 basis points respectively this year.
Copper prices lost ground on Monday on concern that inflation pressures may prompt top buyer China to tighten credit further and persistent worries about the euro zone debt crisis.
Judging by a recent stream of comments from Beijing, the market's bias toward tighter policy in China appears to be in step with that of the Chinese government.