BEIJING, Jan 26, 2010 (AFP) - A city in central China has renamed a mountain after the US blockbuster movie "Avatar," which set a Chinese box office record until its run in the country was cut short.
The majestic peak in Hunan province previously known as "Heaven and Earth Pillar" or "South Sky Pillar" has been officially renamed "Avatar Hallelujah Mountain," the Zhangjiajie city government said in a statement.
The statement, posted Monday on the government's website, said the peak was believed to have inspired a floating mountain, one of the most dramatic images in the movie, set on fictional Pandora.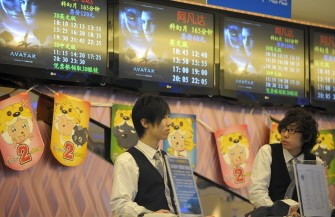 Employees wait for customersbeneath monitors displaying the time table of the movie Avatar at a cinema in Beijing on January 21, 2010. AFP photo
Juxtaposing photos of the mountain with stills from the film, a report in the local Xiaoxiang Morning News said a Hollywood photographer came to the area on a four-day trip in December 2008 and shot a number of photos that were used by the film's artists.
The futuristic adventure was released in both 2-D and 3-D versions January 4 and has become China's all-time box-office champion, topping 80 million dollars in sales, state media said last week.
However, its 2-D run in China ended on Friday amid reports it was pulled ahead of schedule by the government to make way for the patriotic biopic "Confucius," about the ancient Chinese philosopher. It is still running in 3-D.
The Xiaoxiang Morning News said officials expect the mountain's similarity to the film version to trigger a tourism boom during the week-long Spring Festival holiday starting on February 14.
The mountain is in the Wulingyuan Scenic Area, which is famed for its soaring sandstone pillars and was designated a UNESCO World Heritage Site in 1992.