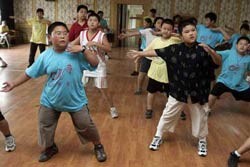 Chinese children do physical exercises in order to lost weigh
China's population is fitter than it was five years ago but expanding waistlines among men was a growing problem, a government survey showed Monday.
The survey of 495,000 people conducted across the country in 2005 showed "a slight increase in national physical fitness" since 2000, according to findings released here by China's General Administration of Sport.
"For adults the physical fitness level of people aged 20 to 39 increased appreciably," since the first report was issued in 2000, the administration said.
Howeveer, the survey found that obesity was an increasing problem, notably among middle-aged men.
While women had kept their weight steady, the obesity rate of male adults stood at 9.3 percent, up 1.7 percent from five years ago, while more than 30 percent were considered overweight, up 1.3 percent from 2000.
Fitness levels of Chinese living in the more affluent eastern coastal areas, notably in Shanghai and Beijing, were higher than their rural counterparts.
Source: AFP