Chinese Premier Wen Jiabao and other senior leaders on Monday urged the nation to prepare for hardships and risks in the future and push forward reform and opening up.
When joining panel discussions respectively with national legislators and political advisors at the Two Sessions, China's top annual political events, they said that officials should further study the economic situations and adopt scientific measures to overcome difficulties.
At the panel discussion with advisors from economic and agricultural sectors of the National Committee of the Chinese People's Political Consultative Conference (CPPCC), Premier Wen Jiabao said China's development still faced many complexities despite the current sound growth.
Wen said, "We have to keep sober-minded and fully recognize the complexities and difficulties in economic development and prepare ourselves for potential hardships and risks."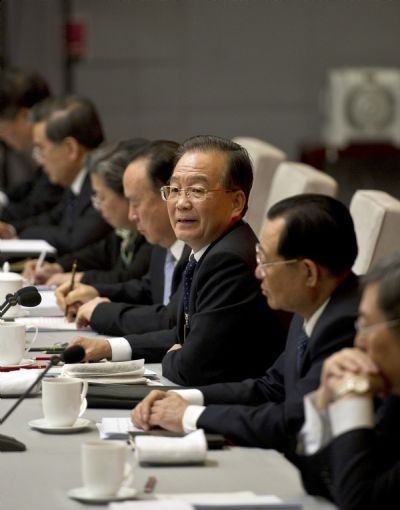 Chinese Premier Wen Jiabao (3rd, R), who is also a member of the Standing Committee of the Political Bureau of the Communist Party of China (CPC) Central Committee, joins a panel discussion with deputies to the Fourth Session of the 11th National People's Congress (NPC) from the circles of economy and agriculture in Beijing, capital of China, March 7, 2011
Wen also urged to closely follow economic trends and developments and to adopt flexible and prudent policies accordingly.
"We must consolidate our confidence. Confidence is strength, confidence is hope," he said.
When attending discussions with deputies to the National People's Congress (NPC) from Tianjin, Li Changchun, member of the Standing Committee of the Political Bureau of the Communist Party of China (CPC) Central Committee, said that the development of the cultural sector was a pressing task. He urged that the industry should be well guided in order to produce good works, which can educate the people.
At a panel discussion with the Henan NPC delegation, Chinese Vice President Xi Jinping said the government attached great importance to the rising up of central China. He urged Henan province to take the opportunity to advance its industrialization and urbanization, and to make greater contribution to national food security and price control as the province is a major grain production base.
In discussion with national legislators from coastal Zhejiang Province, Vice Premier Li Keqiang called for strengthened efforts to facilitate industrial restructuring and deepen reform and opening up. Li urged authorities in Zhejiang to seize the opportunity of developing its marine economy, explore new ways to propel its economy, cultivate new competitive edge and improve people's well-being.
In discussion with the NPC delegation from southwestern Chongqing Municipality, He Guoqiang, head of the Communist Party of China(CPC) Central Commission for Discipline Inspection, urged the city to accelerate the transformation of its economic development pattern, seek coordinated development between urban and rural areas and speed up reform and opening up. Officials should have a clean work style and become more self-disciplined to win trust from the people, he stressed.