BEIJING, Dec 16, 2009 (AFP) - Chinese Premier Wen Jiabao left for Copenhagen on Wednesday, the foreign ministry said, to join other world leaders for UN talks aimed at hammering out a pact to combat climate change beyond 2012.
Wen was expected to address the summit in the Danish capital to elaborate on China's stance, the ministry said in a statement on its website.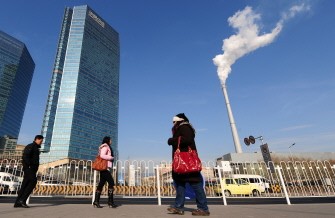 Pederstrians walk past a chimney emitting smoke from a coal-fired power plant in Beijing on December 16, 2009 (AFP photo)
Negotiators in Copenhagen have just three days left to broker one of the most ambitious yet complex deals in human history, but days of bitter wrangling between key players have prompted warnings of failure.
China and the United States -- the world's two biggest carbon polluters -- have brushed aside European calls for concessions on reduction of greenhouse gas emissions, the thorniest issue of all at the UN talks.
The summit aims to secure national pledges to curb the heat-trapping carbon gases wreaking havoc with Earth's climate system, and set up a mechanism to provide billions of dollars for poor countries facing worsening drought, flood, storms and rising seas.
China has vowed to reduce carbon emissions per unit of gross domestic product by 40 to 45 percent by 2020, but experts say its emissions could still double, given economic growth projections.
Beijing also has said developed nations should take the lead in committing to substantial emission reduction targets and provide financial and technical help to poor countries battling climate change.
On Tuesday, Chinese foreign ministry spokeswoman Jiang Yu said the world's poorest nations should get "priority" in the allocation of funds from rich countries.