Chinese Premier Wen Jiabao and visiting Ukrainian Prime Minister Mikola Azarov held talks here Monday to seek promotion of bilateral cooperation.
Wen said China cherishes its friendship and cooperation with Ukraine and is willing to work with the Ukrainian side to strengthen top-level exchanges and consultations at all levels to establish and develop a strategic partnership.
China-Ukraine cooperation enjoys a good foundation and great potential, Wen said, adding that the two sides should make good use of the vice-premier level China-Ukraine Cooperation Committee in promoting coordination and carrying out cooperation projects.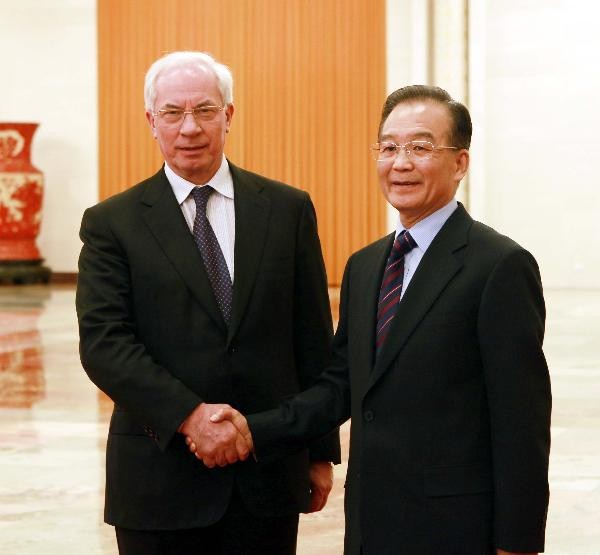 Chinese Premier Wen Jiabao (R) meets with Ukrainian Prime Minister Mikola Azarov in Beijing, capital of China, April 18, 2011.
He said China and Ukraine should set up long-term cooperation planning and related policies based on the two countries' development strategies and advantages so as to promote the scale and quality of bilateral cooperation to a higher level.
Azarov said the frequent meetings between the countries' leaders since 2010 have laid a solid foundation for the further development of bilateral ties.
He said Ukraine welcomes Chinese investment and is ready to make full use of China-Ukraine Cooperation Committee in fostering more favorable conditions for future cooperation.
China-Ukraine relations have developed steadily since the two nations established diplomatic ties in 1992. Bilateral cooperation in the sectors of economy, trade, science and technology have deepened remarkably in recent years.