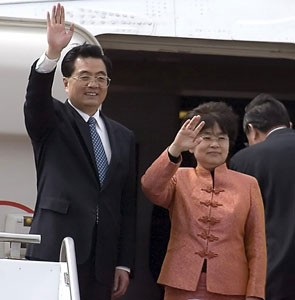 Chinese President Hu Jintao (L) and his wife Liu Yongqing, wave to well-wishers before their disparture from Washington (AFP Photo).
The US President and First Lady Laura Bush are scheduled to meet Chinese President Hu Jintao and his wife, Liu Yongqing, Thursday morning at a White House ceremony.
Talks in the Oval Office between Mr.Bush and Mr. Hu will focus on foreign policy and trade, which the Chinese leader insists is the backbone of US-China relations.
Before arriving in the capital Mr. Hu urged the United States not to let trade disputes damage Sino-US relations, emphasizing that China's fast growth provides tremendous opportunities for America.
"China's development will present enormous business opportunities to the United States and other countries," Mr. Hu told a luncheon attended by about 600 business leaders, government officials and others in the Greater Seattle area.
"China has a huge market and big demand for America's advanced technologies and management expertise."
Speaking on the second day of his first official US visit the Chinese President said it was "hardly avoidable" that trade frictions would occur given the sheer size and rapid growth of the countries' two-way trade, but differences should not be politicized.
"We should properly address these problems through consultation and dialogue on an equal footing as we work to expand our business ties," Mr. Hu said.
The visit comes amid brewing trade disputes between the two countries. The Chinese President is expected to receive a grilling from the US President on issues such as China's undervalued currency, insufficient market opening and rampant piracy -- all of which critics said contributes to the record 201 billion dollar US deficit.
Mr.Hu, however, argued that the China trade has saved American consumers billions of dollars and created millions of jobs and brought "great benefits" to both sides.
US companies doing business with China also have made profits, he added.
Mr. Hu insisted China was working hard to reduce its trade surplus with the United States, but that the surplus was a natural outcome of changes in US industry and of globalization.
"At least 90 percent of US imports from China are goods that are no longer produced in the United States," said the Chinese President.
"Even if not from China, the United States will still have to import these products from other suppliers."
He said China has been "increasing imports" from the US and has "worked hard" to reduce the bilateral trade surplus, citing China's purchase of 6.7 billion dollars' worth of US soybeans and other farm products as well as orders for 60 Boeing 787 Dreamliner aircraft last year, and more recent orders.
He dangled more opportunities for US businesses, including China's need for 2,000 new airplanes in 15 years, its need for imports to carry out massive industrial upgrading, infrastructure building, environmental protection and construction of nuclear power plants.
On the currency, Hu said China wants a flexible but stable exchange rate and will continue to improve its flexibility.
"Our goal is to maintain the renminbi exchange rate basically stable, at an adaptive and equilibrium level," Hu said.
Since China revalued its yuan under US pressure in July last year, the renminbi only appreciated by a little over 3 percent.
Washington believes the Chinese currency remains undervalued by as much as 40 percent, giving Chinese exporters advantages and fostering deep imbalances in global trade.
Mr. Hu listed a litany of steps China is taking to address US concerns, including boosting domestic demand, further opening its market to US companies, including small and medium-sized American firms, and encouraging Chinese firms to invest in the US market.
Mr. Hu also pledged to "step up law enforcement and crack down hard on IPR infringement."
Computer software, movies, music, pharmaceuticals and other US products are widely pirated in China.
The Chinese President's choice of Washington state as his first US stop, where he visited with executives of Boeing and software giant Microsoft, appears to be aimed at easing US concerns over the trade deficit and showing Americans China's purchasing power.
The state enjoys a trade surplus with China, largely due to the sale of Boeing airplanes, as well as wines and agricultural products. Its exports to China increased by 64 percent last year.
Mr. Hu pointed out he flew in on a Boeing airplane.
Prior to his speech, Hu made a shorter speech to Boeing employees following a tour of a Boeing plant.
A Boeing worker presented the Chinese Leader with a blue company cap, and Mr. Hu did something rare for the president known for his reserved style: he hugged the employee.
Mr. Hu left Washington state later Wednesday for the US capital.
Source: AFP