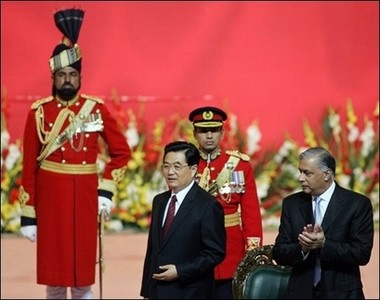 Chinese President Hu Jintao (left) and Pakistan Prime Minister Shaukat Aziz (right)
Chinese President Hu Jintao arrived in the eastern Pakistani city of Lahore for cultural and business visits after concluding a free trade deal and pledging to boost strategic ties.
Hu is making the first visit by a Chinese leader for a decade to Beijing's close 55-year ally, following a trip to South Asian economic powerhouse and Islamabad's bitter rival India.
In historic Lahore, decorated elaborately with Pakistan and Chinese flags and portraits of Hu and Pakistani leaders, Hu was given a warm reception by Punjab governor Khalid Maqbool and chief minister Chaudhry Pervez Illahi.
School children lined up along the red carpet laid at the tarmac and cheered Hu as he disembarked from his plane at Lahore's international airport.
State television private satellite channels showed live footage of Hu's arrival.
Hu was set to visit the tomb of Allama Iqbal, Pakistan's revered Urdu-language poet, and the scenic Mughal-era Shalimar gardens, Pakistani officials said.
He will later attend a banquet hosted by key political and business leaders.
Hu told business leaders in Islamabad late Friday that he would remain in Lahore on Sunday for the inauguration ceremony of an electronics plant and a "higher economic zone" being set up by China.
The zone is one of eight being established outside China and mainly managed by Chinese companies, China's official Xinhua news agency said this week.
The Chinese president's Lahore trip comes a day after he and his Pakistani counterpart Pervez Musharraf oversaw the signing of a landmark free trade agreement.
The pact could treble bilateral trade to 15 billion dollars from 2005's level of 4.26 billion in a key move for both the Asian economic giant and its fast-developing neighbour, diplomats said.
The two countries also agreed to cooperate on an airborne radar system and inked a slew of pacts on defence and the economy including a five-year economic cooperation plan.
Hu meanwhile said China wanted to "work with Pakistan to raise our strategic ties to a new level," quelling Pakistani fears that Beijing is getting too close to neighbouring India.
Hu later addressed the 150-million-strong nation live on state TV and Musharraf presented him with Pakistan's highest civilian award.
The Chinese president praised Musharraf's "enlightened moderation" programme to counter extremism and made an apparent reference to Western policies of intervention.
"One cannot make irresponsible remarks about the internal affairs of other countries simply because of differences among countries and it is equally wrong to blame a particular civilisation, nation or religion for some problems and conflicts in the world," Hu said.
Hu also said that Beijing would carry on cooperating with Pakistan's nuclear power industry -- China has built one reactor here and is helping to construct another -- but he did not announce any new deal.
Beijing remains Islamabad's largest arms supplier and the two are jointly developing the JF-17 Thunder fighter aircraft. China has also invested millions of dollars in a deep sea port in southwest Pakistan to access the Arabian Sea.
Hu is scheduled to return to Beijing midway through Sunday.