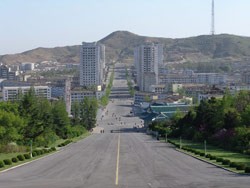 DPRK's Keaseng Industrial Zone in which RoK enterprises have invested but now stoped their business after the nuclear test.
Chinese President Hu Jintao and his Republic of Korea (RoK) counterpart Roh Moo-Hyun are seen as the world leaders with the greatest sway over the reclusive Democratic People Republic of Korea (DPRK) that sits between their nations.
The Beijing summit, only the third meeting between the two presidents, comes as regional players are striving to put aside historic differences.
Hu and Roh will discuss joint countermeasures against the North, said Roh's spokesman Yoon Tae-Young.
"Summit discussions will be focused on an effect-oriented method of crisis settlement, rather than an emotional one," a senior official was quoted by Yonhap news agency as saying.
China, DPRK's former wartime ally, major aid donor and trade partner, is seen as the lynchpin in UN Security Council discussions on how to punish the hermit regime. Beijing wields veto power.
China has also hosted the six-party talks -- also involving the two Koreas, the United States, Japan and Russia -- that have since 2003 tried but failed to curb DPRK's nuclear ambitions.
RoK, though still technically at war with DPRK since their 1950-53 conflict, has also tried to engage its neighbour with its "sunshine" policy of diplomacy, industrial cooperation and tourism.
Both countries have now voiced deep frustration with the North over its atom bomb test and signalled the regime should be punished, although they have not said what sanctions they would support.
"In some ways this meeting is Pyongyang's worst nightmare, because their two remaining friends are getting together," said Peter Beck, Northeast Asia director of the International Crisis Group.
"They are both very frustrated with the North right now, but they are also scared of pushing too hard and making things even worse, especially with Washington and Tokyo beating the sanctions drums."
China and RoK also have the most to lose from turmoil in DPRK, a desperately poor but heavily militarised country from where thousands of refugees have already escaped to China and beyond.
Despite their shared concern over DPRK, the leaders will also discuss sensitive historical issues that have become an irritant.
The government official said Roh and Hu would discuss "China's attempt to distort the history of Korea's ancient kingdoms," Yonhap reported.
Prime Minister Han Myeong-Sook said this month that RoK would never condone moves to distort its history.
RoK's media and some academics have claimed Beijing has hired scholars to distort the history of the Korean kingdoms in case territorial disputes flare up after a DPRK's collapse or a merger with the South.
Source: AFP