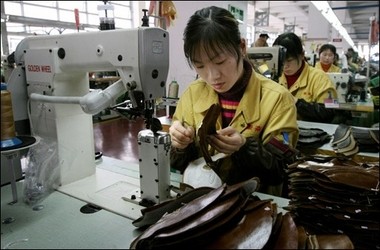 A factory worker stitches leather shoes at the Kangnai shoe factory in the Chinese city of Wenzhou, March 2006.
Nearly all of the 1,200 Chinese shoe makers hit by European Union anti-dumping tariffs have decided against taking legal action despite remaining opposed to the measure, state media said Tuesday.
Just four of the 1,200 companies affected by the tariffs plan to proceed with legal action in Europe in an effort to overturn the ruling, with most of the rest opting out due to the high cost of litigation, the China Daily said.
"Most enterprises are turning to other strategies such as adjusting product structure and changing their export market," Guo Weiwen, an official with Apach Footwear, based in China's southern Guangdong province, told the newspaper.
"Some of them even plan to recede (leave) from the EU market."
The EU imposed a 16.5 percent anti-dumping tariff on imports of Chinese shoes with leather uppers begining October 7.
The step provoked strong opposition from Chinese shoe makers and the Chinese government, which said the measures did not conform with EU and World Trade Organization regulations.
The four companies that plan to proceed with legal action are Aokang Group and Taima Shoes Group, two of the biggest shoe makers in eastern Zhejian province, and Guangdong-based Golden Step Industrial Co and Xinsheng Gangyuan Shoes Group, the newspaper said.
"The European Union's action does not follow the rules of the World Trade Organization and the convention of the industry," said Liao Yue, chairman of Taima Shoes Group, in comments quoted by the newspaper.
"They imposed tariffs on us without investigating my company," Liao said.
Last year China exported 1.2 billion pairs of shoes to EU countries.