A dominant China snatched the final two diving world titles Monday for a massive confidence booster in their hunt for all eight gold on home soil at the Beijing Olympics next year.
Guo Jingjing and Wu Minxia won China its fourth consecutive 3m synchronised springboard gold medal while Lin Yue and Huo Liang took the men's synchronised 10m platform crown to give the powerhouse nation nine out of 10 gold during the women's 3m synchro springboard diving final at the 12th FINA World Swimming Championships in Melbourne, Australia.
The victory made Guo the most successful diver in world championships history with eight gold and one silver.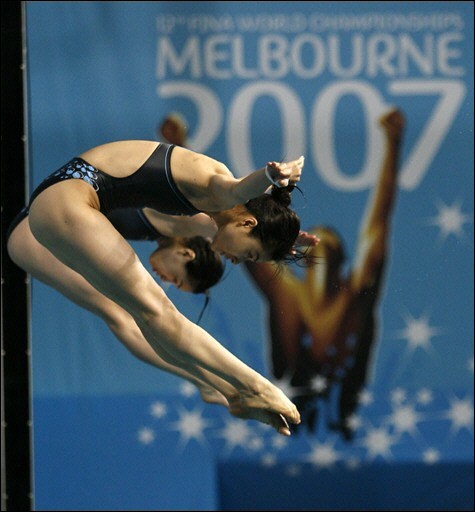 China athletes at the women's 3m synchro springboard diving final at the 12th FINA World Swimming Championships in Melbourne.
The only title China failed to claim was the men's 10m platform where Russia's Gleb Galperin capitalised on mistakes from Zhou Luxin and Lin Yue to relegate them to second and third respectively.
China badly missed two-time Olympic champion Tian Liang in this event, but there is a campaign underway to have him reinstated to the team after he was thrown off for refusing to train after the Athens Olympics.
Earlier this month a group of Chinese lawmakers called on China's parliament to recall him, saying the 28-year-old was too good to be left out of the Olympic team.
The United States, a traditional diving medallist, was almost frozen out in Melbourne, claiming a single bronze and in the final event of the meet, with Germany, Russia and Italy China's main rivals.
Guo and Wu, partners at the 2001 and 2003 world championships, built a commanding lead in the second round with a back dive in pike position where Guo received a pair of perfect-10 scores for her execution.
They went on to amass 355.80 points compared to 318.45 for Ditte Kotzian and Heike Fischer of Germany and 313.14 for Australia's Briony Cole and Sharleen Stratton.
The relaxed Chinese duo, the reigning Olympic champions, were never troubled with the only surprise being the failure of 1998 world champions Yuliya Pakhalina and Irina Lashko of Russia to make the medals.
Guo said China's team was still young and had more to offer.
"Overall China are young divers with a very high standard. Even though they're young they have enough ability to compete on the world platform," she said, adding that she was focused on Beijing.
"The Beijing Olympic Games still have a year to go, everyday is another day, you never know what will be happen tomorrow. I will keep working hard on my training for the future competition.
"For me, sometimes I really need to motivate myself to keep training hard. But no matter how tired I am, no matter how frustrated I am, when you keep working hard, you will receive the amazing reward in the future."
In the men's synchronised platform, Lin Yue and Huo Liang, the Asian Games champions, fought off Russia's Gleb Galperin and his partner Dmitriy Dobroskok for a memorable win.
The Chinese pair clocked 489.48 points to the Russians 467.16 with American duo claiming the country's first diving medal here through David Boudia and Thomas Finchum (463.56).