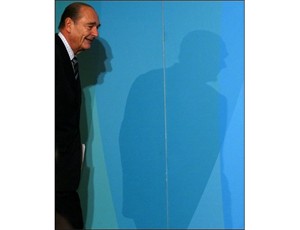 French President Jacques Chirac, seen here, is due to arrive in China for a four-day visit that is expected to see the two nations build on their already warm ties and expand their economic links
French President Jacques Chirac has arrived in China for a four-day visit that is expected to see the two nations build on their strong economic links.
Chirac landed at Beijing's international airport around 3:00 pm (0700 GMT) to begin his fourth trip to China since coming to power in 1995.
He is due to meet Chinese President Hu Jintao on Thursday morning, open a PSA Peugeot-Citroen factory in the central province of Hubei on Friday, and visit some archeological sites in Xian, Shaanxi province, on Saturday.
Chirac is accompanied by 30 French industry chiefs.
While fostering closer bilateral ties will be Chirac's top priority, the North Korean nuclear crisis is also expected to be high on his agenda with both France and China permanent members of the UN Security Council.
Before leaving for Beijing, Chirac said he hoped to strike strategic partnerships in areas such as nuclear energy and rail transport, and emphasized that China would be at "the heart" of France's foreign policy strategy.
"France wants to establish genuine, strategic industrial partnerships with China," he said in comments to China's official Xinhua news agency.
"This is already largely the case in the aeronautic domain. We think this example could be extended to nuclear energy, to rail transport and to other domains where France has unparalleled experience."
Chirac said that during his trip -- his fourth since taking power in 1995 and second state visit -- he would lobby for the construction of a French fast rail link in Guangdong and the delivery of four large third-generation nuclear reactors.
Chirac said he also hoped to open "new sectors" of cooperation between the two countries, such as telecommunications, financial services and agriculture.
Nevertheless, aviation -- one of the highest profile areas of cooperation between the two countries -- is still likely to feature prominently, with a French industry insider saying another Airbus deal was likely to be announced.
This would follow China's order last year of nearly 70 Airbus planes when Chinese Premier Wen Jiabao visited France.
Despite the rosy economic ties, Chirac signaled ahead of his trip that there were some problems, particularly with French business interests in China not as strong as he would like.
"I am not satisfied with the weakness of our part of the market and by consequence with the unequal character of our commercial exchanges," he said.
Among the business chiefs to be traveling with Chirac are those from Societe Generale, Eurocopter, Airbus, Areva, Carrefour and EDF.
After Beijing, Chirac will travel to Wuhan, the capital of Hubei province in central China, where he will attend a ceremony on Friday to lay a stone at the start of construction of a second PSA Peugeot-Citroen factory.
The Iranian as well as North Korean nuclear issue are expected to be discussed between Chirac and China's leaders.
China, which has been Pyongyang's main ally, will be key in enforcing UN sanctions on North Korea, while France had been at the forefront of efforts to convince Iran to agree to halt its nuclear work and return to talks.
Chirac, some of whose aides met on Monday with non-government organizations, are "the most involved" in working for human rights in China, is also expected to bring up this sensitive point with his hosts.