LONDON, Dec 21, 2009 (AFP) - Eurostar train services between Britain and Europe were suspended for a third straight day Monday due to the freezing weather, throwing the Christmas plans of thousands more people into chaos.
More than 24,000 people have already been affected, but the operator of the high-speed Channel Tunnel passenger trains linking London with Paris and Brussels said there would be no services Monday.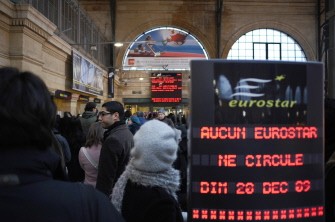 A signboard informs travellers in Paris gare du Nord northbound railways station, on December 20, 2009 that no Eurostar train in operation today. (AFP photo)
Eurostar said that following tests Monday to train modifications it would make an announcement about the prospects for travel Tuesday between the three major European capitals.
Eurostar sent out modified test trains Sunday to see if they could withstand the freezing temperatures and snowy conditions in northeastern France which are being blamed for causing five trains to break down in the under-sea tunnel on Friday.
"Eurostar will not be operating services on Monday," the company said in a statement.
"We sincerely regret having to take this decision and we understand how frustrated and disappointed travellers will be, particularly those who have been waiting to travel for the last two days.
"We will provide a further update regarding Tuesday's services by 1800 GMT on Monday," the company added.
Eurostar's commercial director Nick Mercer said test trains had been running Sunday with engineers trying to work out what was making them break down.
He said screens and shields meant to stop snow getting into the electrics had failed and needed to be improved.
When the trains moved from the freezing conditions above ground to the warmth inside the tunnel, the snow was melting, getting into the electrics and causing the trains to break down.
The modifications made to the trains will be tested Monday to ensure they are effective, Mercer said.
"The test trains did run satisfactorily. The engineers believe they've found the cause," he told BBC television.
The weather conditions in France "caused snow to be ingested into the trains in a way that's never happened before," he said.
"We're carrying out the modifications and I sincerely hope when we test those modifications in live service on these test trains, they will work satisfactorily and we'll be able to resume service."
Britain's Met Office national weather service said Monday would be cold, with further snow showers in the north, prolonged in some places.
Meanwhile a band of rain, sleet and snow would spread across the southeast, where the Eurostar trains usually run, with temperatures hovering around the freezing mark.
More than 2,000 people spent Friday night trapped in the Channel Tunnel, some without anything to eat or drink, in stuffy conditions. Angry passengers have accused the company of handling the situation badly.
Eurostar made emergency arrangements for 500 of its "most vulnerable" passengers caught up in the chaos, taking them to the English port of Dover on buses before catching a ferry to France.
Passengers who have suffered delays will be offered a full refund of their ticket, a free return ticket, and 150 pounds (170 euros, 240 dollars) per person.
The Channel Tunnel runs for 50 kilometres (30 miles) between southeast England and northeast France. Opened in 1994, it is the world's longest uninterrupted under-sea link.
Besides the Eurostar passenger trains, the tunnels also carry freight and vehicle shuttles.
Eurotunnel, which operates a cross-Channel drive-on train service for cars and freight, said its services for cars ran Sunday, but with delays.
The situation was worse for trucks, which were being held on the motorway from London to the British Eurotunnel terminal in Folkestone.
The Eurostar problems added to an already difficult situation for people travelling to and from Britain, with airports affected by the snow.