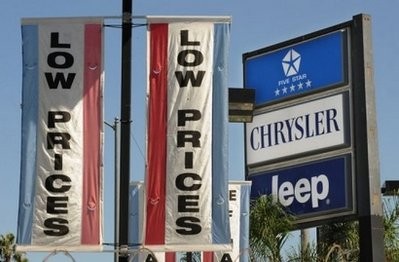 A Chrysler dealer offers low prices in Los Angeles (AFP file)
DETROIT, Dec. 19 (AFP) – An ailing Chrysler will leave the stage dark at the Detroit auto show next month because it does not have any new vehicles to present to the international media, a spokesman said.
Chrysler has traditionally dominated the annual show with eye-catching and expensive stunts like dropping a Jeep from the ceiling, staging a skit with leaping minivans and even hiring cowboys to herd cattle up the busy street outside the exhibit hall.
It also curried the favor of thousands of reporters by turning a fire hall across the street into a tavern where top executives would put in time pouring free drinks from behind the bar.
But new chief Sergio Marchionne - who took over after Chrysler emerged from bankruptcy protection in June - has nixed all press events at the show.
"We wanted to be respectful of everyone's time. Mr. Marchionne is a very practical guy," Chrysler spokesman Rick Deneau told AFP.
"We didn't have anything to show."
The Detroit auto show has long been the main showcase for US automakers and one of the industry's premier events.
Nearly 5,500 journalists from 50 countries attended the 2009 show in January and more than 650,000 visitors passed through the doors during public days.
But attendance has diminished in recent years along with the fortunes of General Motors, Ford and Chrysler who can no longer even claim the moniker of the Big Three.
Even two years ago, the Detroit show was a champagne-filled extravaganza where automakers spent millions on impressive displays and stunning revelations at press conferences that were spread over three days.
Press previews have been scaled back to just a day and a half this year and Nissan - which has showed a significant presence for years - will not even be spending the money to mount a display.
While Chrysler will display its vehicles at the show - which runs from January 11 to 24 - it is currently reconsidering how it uses major auto shows for revealing new vehicles and concepts, Deneau said.
"We'd like to do things closer to the on-sale date of the vehicles and most of our new stuff isn't coming until the second half of the year," he said.
Chrysler also skipped hosting a press conference at the big auto show in Los Angeles earlier this month and hasn't decided yet whether it will host a press event at the New York auto show in April.
Earlier this week, Marchionne said it will probably take up to two years to determine whether the company's elaborate turnaround plan is actually working.