DUEKOUE, Ivory Coast, April 8, 2011 (AFP) - They may not have eaten for days, but they do not dare venture out: some 30,000 people from the Ivory Coast town where troops massacred hundreds last week have taken refuge in the local Catholic mission.
When soldiers loyal to the international recognised president Alassane Ouattara swept the troops of his rival, Laurent Gbagbo, out of Duekoue in last week's lightning offensive, many civilians died in the crossfire.
But UN officials say that several hundred were simply massacred in at least two separate incidents: investigators have already found one mass grave containing nearly 200 bodies.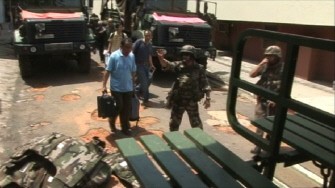 AFP - A screengrab from a video released on April 7, 2011 by the French Defence Communication and Audiovisual Production Agency (ECPAD) shows foreigners being evacuated from hotel Novotel in Abidjan.
Duekoue, in the west of the country, is the stronghold of the Guere community, which mainly backed Gbagbo.
Thus tens of thousands of local people, fearing reprisals, sought sanctuary in the 900 square-metre (9,700 square-foot) compound of the town's Catholic mission, said local priest Cyprien Ahoure.
One 96-year-old woman, suffering terribly after having had nothing to eat for three days, was being treated by the staff of French aid agency Doctors Without Borders (MSF) in the compound.
"She has no strength left," said an MSF nurse.
Nearby, under a sheet of plastic that served as her shelter, 50-year-old Anai Alphonsine had tears in her eyes.
"We haven't eaten in two days," she said.
"My children are weaker and weaker."
The stench from the overcrowded compound is overpowering. Everywhere people have settled themselves under their plastic sheeting shelters in the crushing heat.
"We are 22 members of the same family to cram ourselves in here," said Djure Jean Patrice, the 51-year-old father of the family.
Blaise Bohou Kala, 53, had been at the mission for eight days with his mother, his father and his six children.
"My greatest concern is my parents," he said.
"It's terrible to go without food for two or three days."
Nearby a crowd of famished people rush a mission official giving out a box of biscuits and he has to fight to get free of them. He emerges with his shirt in tatters.
"I don't hold it against them," he said. "The hunger has made them lose their reason."
A group of children sit nearby, their eyes hollow, their bellies swollen.
"Their father is in the forest and I have nothing to offer them," said their mother, Monke Ruth.
She sits beside a week-old baby whose mother, Nina Oulai, said she had to give birth in the forest when she was hiding from the soldiers.
Most of the people here are from the city's southern district of Carrefour, just a hundred metres (yards) away.
It was here that some of the bloodiest fighting took place when Duekoue fell to Ouattara's forces: for the region's pro-Gbagbo militia had their base there.
"We spent five days in the bush," said 23-year-old Doue Justin.
"We drank dirty water and ate raw manioc," he added.
The incoming forces, who he said had included fighters from Burkina Faso, had hunted them with dogs day and night.
"Thousands of people are still in the forest," he said. "How do they get out without getting killed?"
"It was very hard at first," said the priest, Ahoure, who admitted he had had feared being overwhelmed.
"The needs are enormous," he said, as the local people began emerging from the forest and arriving at his compound.
"We need to make their village safe so they can go home."
Ouattara has denied suggestions that his forces were responsible for the massacres and his camp has suggested that in any case the toll is far lower. But he has agreed to an investigation.