Chad government forces fought desert battles against rebels who were stepping up an offensive against President Idriss Deby, with almost 250 reported dead in two days of conflict, as the UN Security Council condemned the rebel assault.
The fighting, centred on the eastern town of Am-Dam, has heightened concerns among UN agencies and aid groups caring for about 450,000 refugees from Sudan and the Central African Republic.
The UN Security Council meeting in New York unanimously condemned the ongoing military incursion by Chadian rebels who came from across the Sudanese border.
All 15 ambassadors endorsed a non-binding, French-drafted statement that "condemns the renewed military incursions in eastern Chad of Chadian armed groups, coming from outside," meaning neighboring Sudan.
France, which has troops in Chad, was anxiously watching events. The European Union and African Union both condemned the rebel offensive.
Chad has bombed the rebels from planes and helicopters since they crossed the Sudanese border Monday. The government accuses Sudan of backing the Union of Resistance Forces (UFR) rebels, who have vowed to take the capital Ndjamena.
The rebels, who claim to have more than 1,000 all-terrain vehicles to carry their forces across the desert, said "several dozen" government troops had been killed or wounded and tanks destroyed in clashes early Friday around Houaich, near Am-Dam.
Confirming new clashes, Communications Minister Mahamat Hissene said 225 rebels had been killed, with another 212 taken prisoner, 127 of their vehicles seized and 93 destroyed.
On the government side, 22 soldiers were killed and 31 wounded, he said.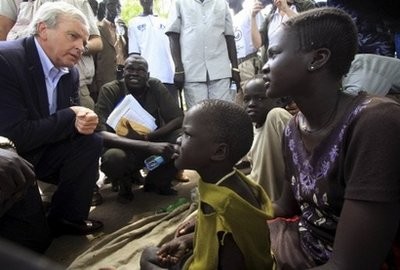 UN Undersecretary-General for Humanitarian Affairs John Holmes (left) chats with women and children in Akobo, in Jonglei State, South Sudan.
The army on Thursday said 125 rebels and 21 soldiers had been killed in clashes at Deressa, half-way between Am-Dam and Abeche, the main city in eastern Chad.
But the fighting spared Abeche, about 600 kilometres (370 miles) east of the Chadian capital, and Goz Beida, about 100 kilometres south of the battlegrounds. Both are bases for relief agencies, and Abeche is the eastern headquarters for the Chad army.
The rebels say they occupy Am-Dam, which is about 100 kilometres (60 miles) south of Abeche.
In New York, Chad and Sudan blamed each other for escalating fighting as the UN Security Council mulled a Chadian call for condemnation of the offensive.
"We are the victims of Khartoum's Machiavellian machinations," Chad's ambassador to the UN Ahmad Allam-mi said. "The Security Council must openly condemn the (Sudanese) regime for its repeated attacks on my country."
Sudan's UN ambassador Abdalmahmooud Abdalhaleem Mohamad lashed out at France, Chad's main backer and former colonial ruler, alleging that the French UN mission was lodging statements with the council "in the name of Chad."
A UN military mission deployed in Chad and the neighbouring Central African Republic to protect refugees and oversee the safety of aid work was considering the redeployment of relief staff withdrawn from camps earlier in the week, a spokesman said.
"The situation seems to be growing stable around Goz Beida," where the UN stepped up military patrols this week, Michel Bonnardeaux, the spokesman for the MINURCAT mission, told AFP.
Bonnardeaux and staff at the Office for the Coordination of Humanitarian Affairs (OCHA) in Geneva said that essential relief work was continuing in the region for more than 250,000 refugees from Sudan, 166,000 displaced Chadians and local people.
Chad's Interior Minister Ahmat Mahamat Bashir has accused Sudanese President Omar El-Beshir of ordering "mercenaries" to attack Chad and vowed the rebels will be wiped out.
Peace between Chad and Sudan is regarded as essential to any lasting settlement to a six-year-old uprising in Sudan's western Darfur region.
Deby seized power in a similar rebellion in 1990, also launched from Sudan. He was first elected president in a vote in 1996, re-elected in 2001 and stood for a third term in 2006, when the opposition boycotted the poll.
In February 2008, rebels battled their way to the gates of the presidential palace in Ndjamena before being beaten back. Traders have also expressed their concerns over fresh fighting.
EU foreign policy chief Javier Solana led international calls Friday for an end to the offensive.
"I firmly condemn the acts of violence by armed groups coming from Sudan in the east of Chad," the EU's top diplomat said in a statement. "I call on them to renounce violence and begin negotiations with the Chad government."
The African Union's peace and security commissioner Ramtane Lamara issued a new "condemnation of all kinds of anti-constitutional change of government, and acts of destabilisation."