STRASBOURG, April 4, 2009 (AFP) - French riot police fired tear gas Saturday to repulse about 1,000 protestors trying to cross a bridge into central Strasbourg on the last day of a NATO summit, an AFP reporter at the scene said.
Other, smaller groups managed to breach outer security cordons and block junctions in the city, co-host of the 60th NATO anniversary summit attended by 28 heads of state and government, including US President Barack Obama.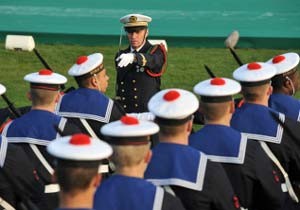 Members of the national guard wait in Strasbourg, eastern France, for NATO heads to cross the bridge from Germany into France on April 4, 2009 during the NATO summit (AFP Photo)
Police and protestors claimed early victories Saturday but it was set to be a long day, with organisers hoping as many as 60,000 demonstrators would converge along the Rhine River for a "monster" demo later.
"We are winning the war," a officer from France's CRS riot police said at the bridge where the marchers were pushed back.
But a 45-year-old German demonstrator whose group blocked a tram route taking journalists to the summit venue disagreed.
"We are near the congress centre ... It is a first victory for us because President (Nicolas) Sarkozy said that he didn't want to see demonstrators on the street," said Martin, who declined to give his surname.
"We are on the street, there are thousands of others on the streets."
"The police are attacking us from the first moment with tear gas and shock grenades, they are trying to shoot us with rubber bullets. But we are calm and we said we want to make our civil disobedience," he said.
"NATO is a coalition of war -- think about Afghanistan, think about Iraq, think about the new strategy for global security systems, think about the war on terror," he said.
Many of the demonstrators were masked and wore black clothes, brandishing red and black flags, peace banners, beating drums and carrying pictures of Che Guevara. Some had gas masks.