COPENHAGEN (AFP) – The UN climate conference agreed to "take note" Saturday of an accord between senior world leaders, a move that analysts said would allow the pact to take effect.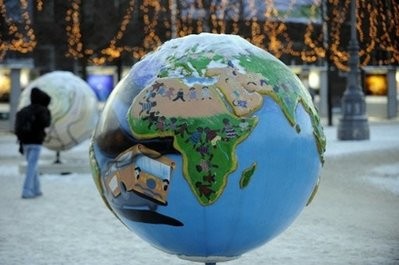 Picture of a globe part of the "Cool Globes" exhibition about combating global warming and climate change in the Kongens Nytorv area in the centre of Copenhagen (AFP file)
"The conference decides to take note of the Copenhagen Accord of December 18, 2009," the chairman of the plenary session of the UN Framework Convention on Climate Change (UNFCCC) declared, swiftly banging down his gavel.
"My understanding is that it gives (the accord) enough legal status to become operational but without needing the parties' approval," said Alden Meyer from a US non-governmental organisation, the Union of Concerned Scientists.
"They found a way of giving official recognition to adopt the accord in such a way that those countries (who had been opposed to it) were persuaded not to object," David Doniger, policy director of the Climate Center at the US Natural Resources Defense Council, told AFP.