Global climate talks to be held in Copenhagen got a big boost on the weekend when leaders representing a third of the planet's population put their full weight behind sealing a deal.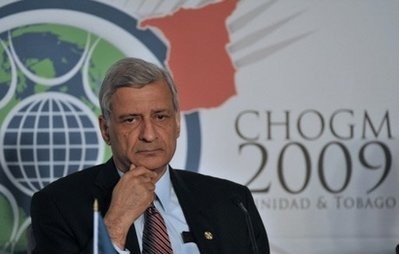 Commonwealth Secretary General Kamalesh Sharma listens to a question during a press conference on climate change during the Commonwealth Heads of Government's meeting in Port of Spain. (AFP Photo)
The heads of government of the 53-nation Commonwealth announced Saturday that a legally binding climate accord was "essential" and they backed the December 7-18 Copenhagen negotiations called to draft a successor treaty to the Kyoto Protocol.
The Commonwealth Climate Change Declaration, issued mid-way through a three-day summit in Trinidad, also hailed moves promoted by Britain and France to establish a 10-billion-dollar fund to help offset the cost to poor countries that cut carbon output.
That financing offer, combined with greenhouse gas emission cuts announced over the past two weeks by most of the world's biggest polluting nations, prompted leaders to swap skepticism for optimism.Related article: Success in sight
"I remain fully convinced that it will be possible to reach an agreement in Copenhagen," Danish Prime Minister Lars Loekke Rasmussen, who will host the talks, said in Trinidad, where he was a special guest.
UN Secretary General Ban Ki-moon said he believed there was momentum for a deal. But he cautioned that it was not yet certain that a treaty would emerge from Copenhagen for signing in 2010.
"We are united in purpose, we are not yet united in action," he said, urging world leaders "to stay focused, stay committed and come to Copenhagen."
So far, 90 leaders have confirmed they will attend the talks in the Danish capital, including US President Barack Obama, lifting them to the status of an important international summit.
"We, as the Commonwealth, representing one third of the world's population, believe the time for action on climate change has come," Australian Prime Minister Rudd said as he unveiled the Commonwealth agreement.
"We believe the political goodwill and resolve exists to secure a comprehensive agreement at Copenhagen," he said.
China, the United States, the European Union and Brazil have all announced greenhouse gas emission reduction targets designed to contain the level of global warming.
India remains the only big polluter still to declare its target, though Prime Minister Manmohan Singh promised on Saturday it would be unveiled soon and would be "ambitious."
For all the political determination and talk of consensus expressed at the Commonwealth summit, several points of contention remain that could prove divisive in Copenhagen.
The Commonwealth declaration, for instance, revealed that differences remain over whether global temperature increases should be constrained to below 1.5 degrees Celsius (2.7 degrees Fahrenheit) or to no more than two degrees Celsius (3.6 degrees Fahrenheit).
Such a range could mean the difference between survival and catastrophe for low-lying island states -- such as Commonwealth members the Maldives, Vanuatu and Tuvalu -- threatened by flooding from global warming.
Excessive action to rein in rising temperatures, though, could stunt economic growth not only in industrialized countries but also developing nations such as India.
The amount of money to be made available to poorer countries adopting environmental measures was also a subject of debate.
Although the Copenhagen Launch Fund evoked in the Commonwealth statement was hailed as a step forward, its 10 billion dollars a year was a fraction of the cash required to offset lost economic potential in many countries.
The European Union has estimated that 150 billion dollars would be required to compensate developing countries for restraint in factory pollution or deforestation.
Other nations, including Guyana, say the calculation is more like 300 billion dollars.
That highlights an argument developing nations are leveling at the long-established industrial states of Europe and North America: that their wealth was built on centuries of environmental damage, and it is up to them to bear the financial responsibility for fixing it.